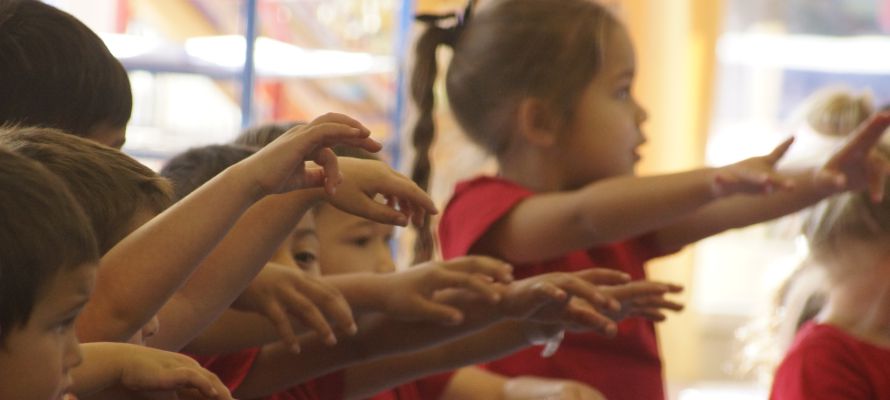 Embracing our cultural heritage.
Kapa haka has been long been embraced at many of our kindergartens as a way to help integrate our bicultural heritage and cultural identity. It's a dynamic way to learn more about Māori te reo, tikanga (customs), rituals and history in a fun, invigorating way.

FIND OUT WHY WE'RE JUST BETTER BECAUSE...

Excited to embrace our cultural identity were tamariki at Kidsfirst Ngaire Larcombe who gave it their all for a kapa haka performance for whānau and friends at kindergarten.

Head Teacher, Kate Norman said, "We had an awesome day and it was a great way to kick off our Matariki (Māori new year) celebrations."

"Children really enjoyed it and were so proud to perform for their whānau. There was a good buzz and lots of positive comments from our parents."

With its powerful actions, bold singing and dynamic movements it's easy to see why people of all ages love to both perform and watch kapa haka.

Did you know?

The Māori term Kapa haka literally translates to form a line (kapa) and dance (haka) ...and the traditions of haka, poi, moteatea (songs), the use of mau rakau (weaponry) and the movements of Māori hand-to-hand combat, were all influential in its development.

.

Kidsfirst Kindergartens
Head Office, 43 Birmingham Drive, Middleton, Christchurch 8024
+64 3 338 1303 email: questions@kidsfirst.org.nz
Postal Details: Kidsfirst Kindergartens, PO Box 8089, Christchurch 8440
KIDSFIRST KINDERGARTENS ARE A NOT FOR PROFIT ASSOCIATION WITH OVER 70 KINDERGARTENS AND EARLY LEARNING CENTRES COVERING CHRISTCHURCH, CANTERBURY, CENTRAL OTAGO, BANKS PENINSULA AND THE WEST COAST - AND HAS DONE SO FOR OVER 100 YEARS
- AS THE PLACE LOCAL KIDS COME TO LEARN, PLAY AND HAVE FUN.