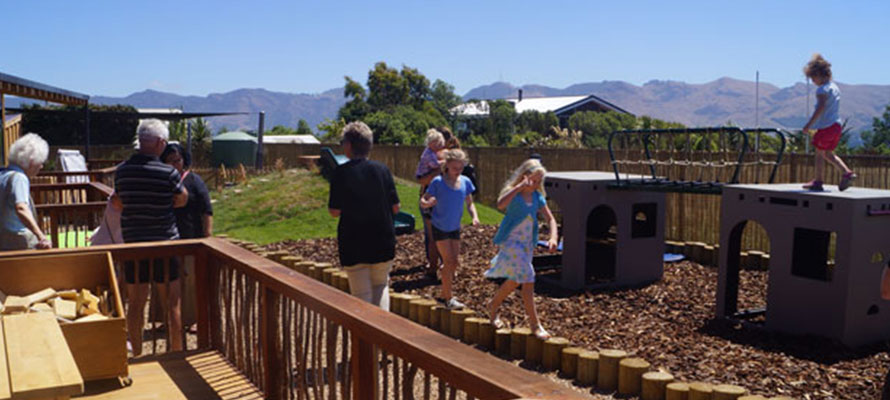 | | | |
| --- | --- | --- |
| | | Kidsfirst Diamond Harbour had their first official day on the 2nd of February, and it was a great success. |
OUR TOP STORIES:

The centre is licensed for 50 under-five year olds, though for the first few months, it will cater to a smaller number as Kidsfirst successfully transitions children into the centre.

Head Teacher of Kidsfirst Diamond Harbour Early Learning Centre, Becs Thomas (pictured above) said that the first day on the job was all about the community coming together in a new way, for the first time.

"We've started with a smaller number of families in order to really get to know them. Our children are very active and the sun was shining all day, so there was a lot of water play, exploring the climbing equipment and getting hands dirty in the sand pit."

Parents were free to stay for as long as they were comfortable, and Ms Thomas said that many were surprised with how quickly their young ones settled in to their new environment.

"Some of them thought they would be here with their children all day to settle them in. We encourage parents to stay as long as they like, but after seeing how much fun the children were having, many parents felt confident enough to slip away quietly and give us a call later in the day to check up on how their child was doing."

The teachers have been in the building, setting up the space for the last few weeks, but seeing it in action has been fantastic, Ms Thomas says.

"That's when the design and practicality of the building has come to the fore. It's bright and open because of the many windows, and the specialty spaces for art, music, imaginary play and outdoor games are perfect for fostering learning."

The Early Learning Centre is on the same site as the Diamond Harbour Primary School, maintaining the sense of community that Diamond Harbour is so well known for, and helping children transition to their next learning environment as smoothly as possible.

ABOVE: Images taken from Diamond Harbour's first Open Day for the community.

quick read

Kidsfirst's Diamond Harbour Early Learning Centre is open from 8:30am - 4:30pm Monday to Friday throughout the year, in order to cater to the needs of working parents.

It is the first of two new Kidsfirst Early Learning Centres to open in 2015. Others are under development for Christchurch's Bays area and Franz Josef, and will join the other 62 Kidsfirst kindergartens and early learning centres across Canterbury and the West Coast.
KIDSFIRST KINDERGARTENS ARE A NOT FOR PROFIT ASSOCIATION THAT HAS DEVELOPED AND MAINTAINED KINDERGARTENS IN CHRISTCHURCH, CANTERBURY AND ON THE WEST COAST FOR OVER 100 YEARS - AS THE PLACE LOCAL KIDS COME TO LEARN, PLAY AND HAVE FUN.