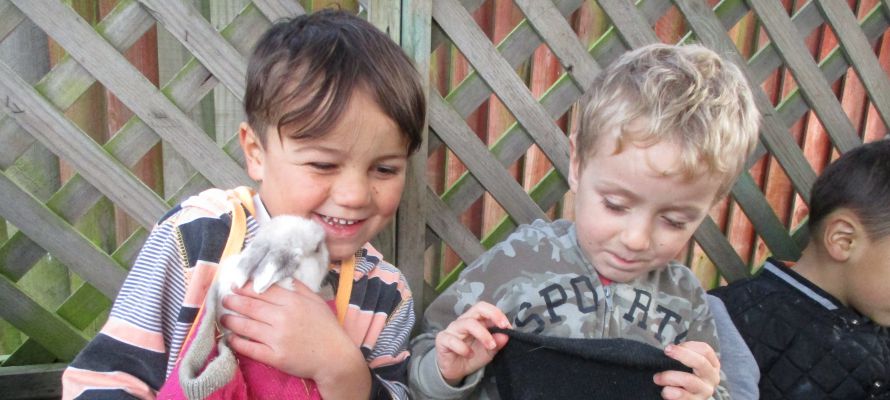 | | | |
| --- | --- | --- |
| | There are so many enriching learning opportuntities that come with having pets at kindergarten... | |
SOME OF OUR TOP STORIES

Studies show interaction with animals and the chance to see, feel, touch, connect with and care for a pet instills children with a sense of responsibility and respect for life.

Pets encourage nuturing. Nobody likes being treated roughly and a child soon learns that to be trusted and liked by an animal, requires kindness and a gentle hand.

Pets become friends. Tamariki build strong bonds with pets and will often turn to them to help their emotional well-being or seek out their companionship when feeling down.

Across our Kidsfirst network, we have a whole community of animals - from goldfish to dogs, rabbits, birds, guniea pigs, mice and more.

At Kidsfirst Vickery Street, Teacher, Jenny Moore brings her pet dog Alfie to kindergarten four days a week, and the children adore him. Alfie joins in at mat time, in the playground and even has his own profile book!

Jenny says, "when Alfie first started we had a couple of tamariki not too sure of him, however with the assistance of their whānau and Alfie's persistence they are now some of his biggest fans!"

"When a child is hurt or upset Alfie will often sit near them until things are resolved. Everyone has embraced Alfie and as a team we only see the positives of his visits."

The tamariki at Kidsfirst Cotswold enjoy the company of a teacher's dog too – named Bently - as well as Briony the bunny, Speckle and Milky the two chickens and Roxy and Willow (a pair of rats).

"Pets are a big part of our curriculum," says Head Teacher, Kathy Harford. "There are so many therapeutic benefits to taking care of animals and some children who may not have pets at home, are able to have this experience at kindergarten."

Kathy tells us the funny story behind Briony the friendly rabbit who mysteriously appeared in their garden one day and became the kindy bunny after no one claimed her. "The kids named 'him' 'Brian' but after a vet visit they discovered she was - in fact - a girl, so the name was promptly changed to Briony."

Over the weekends, there's never a shortage of families happy to pop by the kindergarten to feed and care for the chickens and bunny, while the rats head home with a different family each Friday afternoon (in their smaller travel cage) to be looked after.

"Our pets really help with our bicultural principles of tikanga (taking care of our environment) and teaching respect for the natural world," says Kathy. "We practice sustainability by feeding our food scraps to the chickens and worms, and Briony makes short work of our apple cores."

Over on the West Coast, Kidsfirst Greymouth have a blue budgie called Bert. They used to have a chicken - Cookie - who wandered free range and joined the kids at mat time. He's now in retirement at a teacher's house and replaced by two new chickens - Pavlova and Wobbles - that the children love to help care for.

"We think animals are a great settling tool for children and for teaching empathy and respect/maanakitanga and looking after our environment/kaitiakitanga," says Head Teacher, Tracy Jennings.

"We have a lovely hutch nestled centre stage among our native plantings in the playground," says Tracy. "The bike track loops around the hutch so children often stop for a breather and have a chat with the chickens - they'll a real focal point."

Teacher, Katrina Yearbury at Kidsfirst Phillipstown says, "we have monarch butterflies and swan pants. The children love to follow their whole fascinating life cycle intensely - from watching the butterflies land to lay eggs, to caterpillars devouring the plant and the transformation into a chrysalis. It's great learning for parents too!"

With the soft swish of their tails, gentle bubble blowing at the surface or fossicking in the pebbles at the bottom of the aquarium, fish are very calming to watch.

"We have lovely tropical fish here at Kidsfirst Woolley Street," says Head Teacher, Jolene Hemmingsen. "Children say hello to them on their way into kindergarten and goodbye on their way out, and love to take turns feeding them."

"We have a few special needs children who often spend a lot of very settled time just watching the fish - intrigued."

Central Otago's Kidsfirst Hawea children love to gaze at their two colourful goldfish too. And at Kidsfirst Avonhead there's a friendly frog (started from a tadpole) that's taken up residence with their fish.

Tamariki diligently bring flies from home or catch insects with the kindergarten net to feed their little green frog friend.

"Children also help to feed the fish and to clean up the aquarium," says Teacher, Jane Hopkins-Dorgan. "It's a great way to learn about taking responsibility for the living world."

Gorgeous Charlie - or 'Sir Charlie' as the children like to call him - is the much adored snuggly, soft, charming pet rabbit at Kidsfirst Queenspark.

"He has the flashest two-storey hutch in town - built by one of our kindergarten community parents," says Head Teacher, Jo Stewart. "Children often climb into his run for a visit or to feed him pieces of fresh fruit and veges. He's such a great asset for us all."

Over on Banks Peninsula, a teacher's daughter and her friend rode their horses to visit Kidsfirst Diamond Harbour.

"Children had shown a recent interest in knights, castles and horses," says Teacher, Kirsten Mackay. "They were delighted with the visit, rushing up to the kindergarten fence for a pat. It inspired a day of pretend horse-play and learning lots of new words like saddle, bridle and hooves."

Having some farm animals visit kindergarten was a big deal for tamariki at Kidsfirst Ngaire Larcombe too. There were opportunities to meet a lovely white donkey, scoop up velvety bunny rabbits for a snuggle or saddle up for a fun pony ride.

"They absolutely loved the animals visiting," says Head Teacher, Kate Norman.

Kidsfirst Ilam are currently in a temporary building (while theirs is refurbished) but Head Teacher, Christine Putt, and the team haven't forgotten about their worm farm back at the kindergarten and regularly pop back to feed them.

Kidsfirst Kaiapoi North don't have any animals at the moment but they do have a collection of much-loved trees in their neighbouring Domain. Read hear about their community of trees (here).
Information including that about fees, services and promotional activities were correct at the date of publication of news stories but may since have changed. Please check with us to ensure information is current.