| | | |
| --- | --- | --- |
| | of our great big backyards | |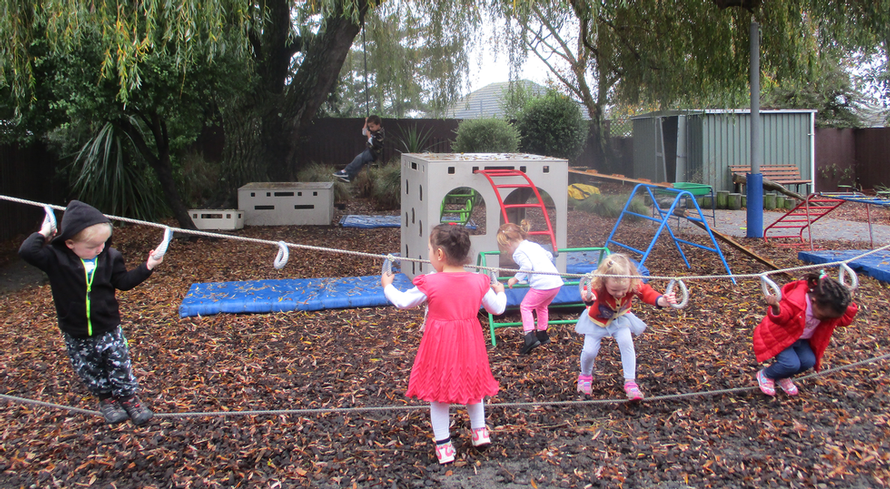 | | | | | |
| --- | --- | --- | --- | --- |
| | | | Have you taken a look behind the gates of your local kindergarten lately? | |
Because we've been around so long, many of our services are tucked away down driveways or fences, and are not always so visible from the street.

You really need to get past all that to get a sense of the kindergarten difference. For Kidsfirst, it's not about flashy buildings, shiny new playgrounds or piles of plastic for us. Our time, money and energy goes into ensuring that every child has the very best early childhood education on offer in an environment that is stimulating, safe and secure.
In a nutshell:

• Organise a visit to see what our great big backyards are like.

• Real trees to climb, real grass to run on, sandpits to dig in...

• Messy play is fun (when someone else gets to clean it up!).

• The tamariki experience the outdoors in many different ways.

• There's so much learning that comes from interacting with our world.

• Being physically active is important.
| | | |
| --- | --- | --- |
| | Here's why it's so important: | |
| | | |
| --- | --- | --- |
| | | |
As the world around us becomes more sedentary and people become less connected to nature, our Great Big Backyards allow children to run, climb, get wet and explore, enhancing their social, physical, cognitive and emotional wellbeing along the way.

As a society, we have become so disconnected from our outdoor spaces that the term 'nature-deficit disorder' has been coined by researchers who found that children exposed to natural settings generally experiencing lower stress levels and enhanced cognitive functioning.

Being physically active from an early age has never been more important, and Kidsfirst is proud to be able to play a part in helping our youngest learners build healthy habits that lay the foundations for life.

Visitors often comment on the calm, relaxed yet busy environment they see as they come into our kindergartens. All around you will see children busy at work alongside each other, making choices for play that engage them with the people, the places and the things of our environment and community.

Whether it is on one of the many excursions our kindergarten children take, which also help build a sense of belonging and connection to their local community, or in our own backyard, there is so much to see, engage the senses and learn about.

Natural materials, just waiting to be picked up, looked over and wondered about, offer endless opportunities for creativity, play, learning and motor development. With the help of our trained teachers, children expand their horizons, get more curious, and enjoy the excitement of discovering new things for the first time. There are maths, science and other lessons just waiting to emerge from nature's ever changing offerings.

Kidsfirst playgrounds offer a variety of flexible, adaptable, age-appropriate spaces - unique play spaces where children can challenge themselves with the support of our trained teachers - ideal for curious learners and creative imaginations. There's a variety of challenging climbing and physical play equipment inviting active exploration. Green grass, barked areas and equipment specially designed to support children's physical growth and development are features. There's space for running, jumping, climbing, swinging and exploring as well as peaceful places to connect with nature, and make sense of our natural world.

Tamariki choose from and learn to use a range of real resources such as saws, hammers, nails, gardening equipment, spades and shovels. In using this equipment, they learn about managing risk and making safe choices for meaningful play.

Children love to get out and plant seeds, help to weed and feed their plants so they grow up tall and leafy. There is so much to learn about the lifecycle of a seed through to a plant, what conditions plants need to thrive, as well as discovering what each fruit and vegetable from the resulting harvest looks and tastes like. Helping to grow, harvest and cook kai to share with our families, from our own gardens, is a big part of kindy life.

Then there's messy play - something every child loves, and every parent or caregiver dreads when it's time for cleaning up. Children love to get their hands dirty, or sometimes much more, and at kindergarten they are actively encouraged to dig, create and explore to their heart's content, while the clean up is all in a day's work for us.

To really see the difference a Great Big Backyard makes,
book a tour of your local kindergarten.

More reading: Outdoor environment/hekupu.ac.nz/article

Nau mai, Tauti mai, Haere mai