Teaching in great big backyards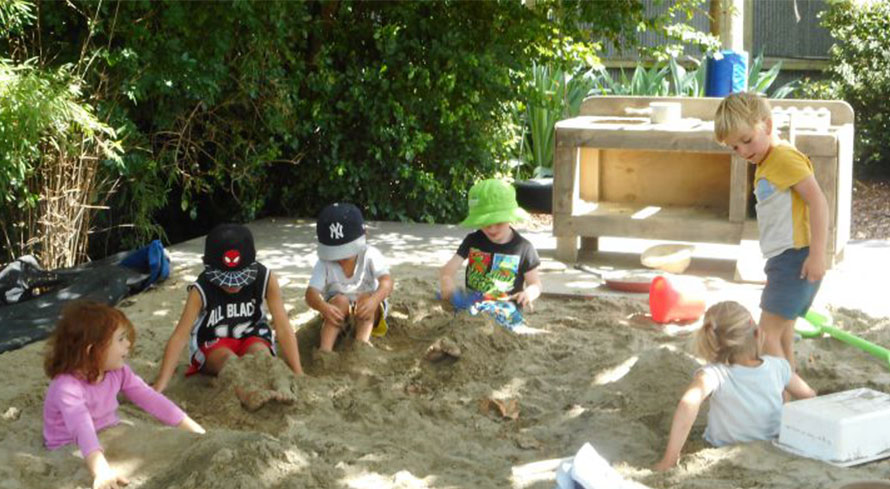 We asked teachers around Kidsfirst to share just what it is about their outdoor area they love the most...
One of our newest kindergartens, Kidsfirst West Rolleston, continue to grow all sorts of goodies in their big backyard.
Bathed in sunshine and landscaped with bark their purpose built planter boxes have been put to great use and are at just the right height for tamariki to help plant, tend and harvest.
"It's fantastic that our children have opportunities to try new things in our outdoor environment and to get involved with the gardening," says head teacher, Victoria Rodger.
They've harvested ripe, red tomatoes and juicy corn. There's a plump cabbage almost ready to be picked and a butternut pumpkin grows rounder everyday.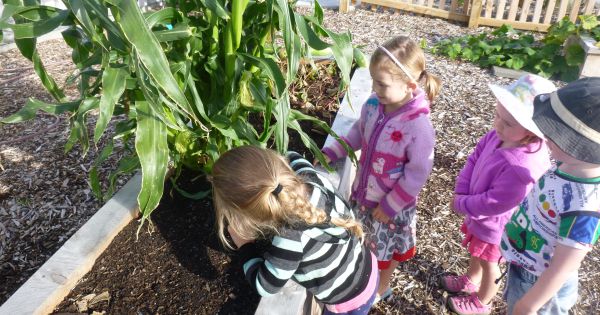 Harvesting fresh corn at Kidsfirst West Rolleston.
"We collected up tomatoes and a cucumber to make delicious savoury muffins - that most of the children tried," says Victoria. "But the biggest hit has simply been cut up slices of cucumber to snack on."
With tomatoes, spinach and silver beet aplenty families were invited to help themselves to the kindergarten's excess harvest.
"Our grassed area and mature trees are what we love most about our big backyard," says Central Otago's Kidsfirst Hawea teacher, Kelly Wright. "And of course our beautiful mountain backdrop in the distance."
The kindergarten has a beautiful tree by the sandpit that turns bright red over the autumn and established fruit trees provide crispy apples and crunchy pears come autumn.
"We bake blackberry pie with berries from our brambles and we often see the children forage for the ripe ones to pluck and eat."
At Kidsfirst Terrace in Central Otago, well-established trees provide a natural canopy of shade for children in their big backyard. Laden with sturdy branches they are great for climbing on too!
"We love to harvest from our walnut tree," says teacher, Sharon Penny. "Children help to gather them up and take them home to ripen and dry out."
Tamariki at Kidsfirst Cotswold are welcomed into a highly inclusive, natural, spacious and peaceful outdoor learning environment at their kindergarten, that effectively provokes their curiosity and encourages exploration.
Children respectfully interact with their natural world by caring for pets, flowers and vegetables and learning about sustainable practices.
Teachers say, "Our environment has been evolving over a period of time through project work with our children and whānau."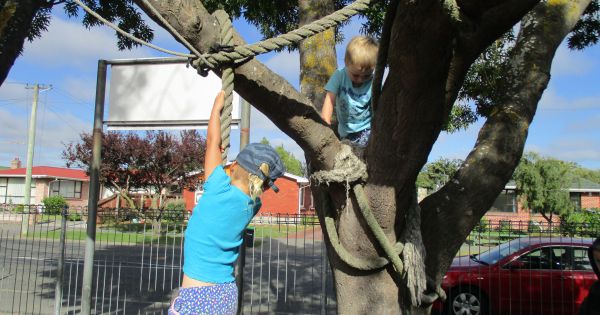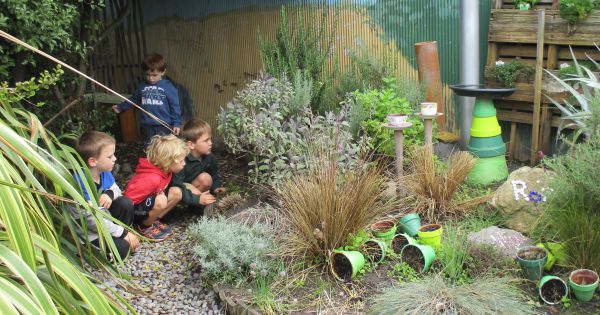 Children are drawn to a climbing tree and secret path by the herb garden at Kidsfirst Cotswold.
"Children are drawn to our huge climbing tree, our free range rabbit and hens, our mosaic board, mud kitchen and our secret path by the herb garden."
Kidsfirst Vickery Street teacher, Jenny Moore says, "We feel incredibly lucky to have our wonderful kiwi big backyard, with climbing trees, secret hidey-holes and space to explore."
A popular spot is the trickling waterfall and sandpit area where a gorgeous tree provides sun protection all summer long. There's plenty of room for tamariki to challenge themselves, to hone their developing gross motor skills or to set goals to extend their physical learning.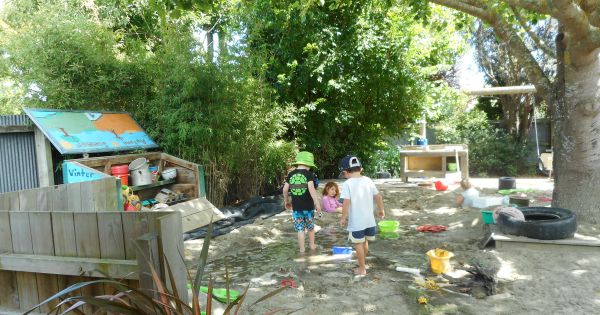 Exploration and adventure abound in the huge sandpit at Kidsfirst Vickery Street.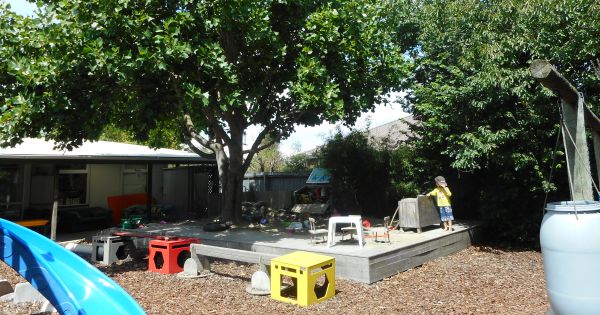 There's room to move, investigate, explore and develop in our big backyards.
"We try to bring the indoors out as much as we can because it's such a great environment to be in," says Jenny. "Our veranda is another fantastic spot that offers space for creativity, literacy, numeracy, reading and cognitive experiences or to just take time out to relax and reflect."
Together, we can achieve great things in a Kidsfirst big backyard too!
In a fantastic show of community spirit Kidsfirst Hawthornden held a working bee to spruce up parts of their outdoor environment.
This was thanks to Bunnings who supplied the building equipment and a kindergarten Dad and builder who took the lead to direct our whānau (and kaiako!) helpers.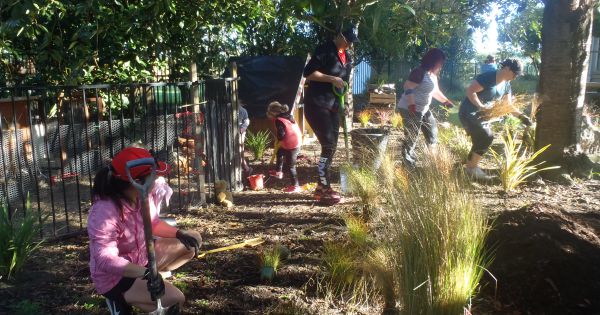 Kidsfirst Hawthornden spruce up their big backyard.
"We managed to fix up our existing whare to make it water tight again, build some paving under an outdoor 'exploring' cabinet, a solid gravel area for our mud kitchen and another gravel pad as a bike park," says head teacher, Catherine Gerslov-Wright.
There were even enough helpers on the day to give the gardens a good weed and trim.
"This has been a brilliant facelift for our big backyard with amazing donations of time, tools, food, skills and energy," says Catherine.
"What a difference a bit of time and effort can make!"
Read more stories...

Nau mai, Tauti mai, Haere mai
Information including that about fees, services and promotional activities were correct at the date of publication of news stories but may since have changed. Please check with us to ensure information is current.