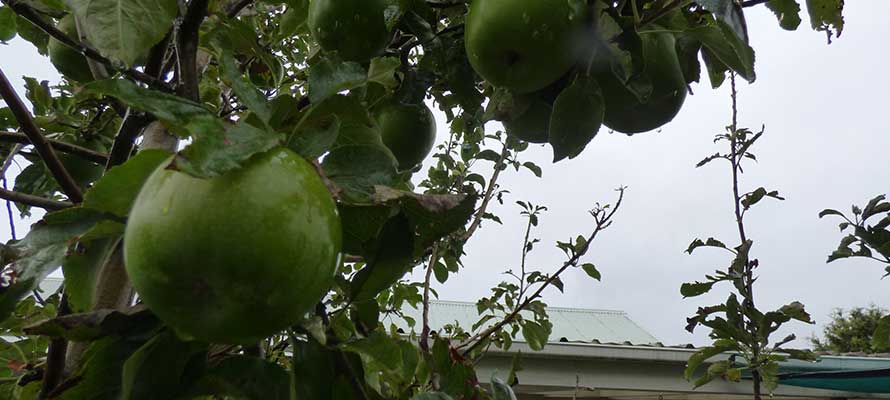 | | | |
| --- | --- | --- |
| | | Apples, apples everywhere - the humble aporo (apple) abundant at Kidsfirst Hargest Crescent kindergarten. |
OUR TOP STORIES

NEWS FROM AROUND

CENTRAL OTAGO

This season Kidsfirst Hargest Crescent have filled a basket to the brim with big, green granny smith apples - from their very own cooking apple tree! Tamariki each took turns to carefully climb the sturdy step-ladder and forage among the branches to pick two aporo (apples) each.

"As part of sustainability here at Kidsfirst Hargest Crescent kindergarten we planted some fruit trees. This year sees us with a bumper crop of green delicious apples now ready to harvest and use," says Head Teacher, Robin McGregor.

So many apples, so many options for cooking...and it wasn't long before the aroma of freshly baked apple muffins filled the kindergarten. Lots of little helpers had been on hand to peel, chop, core and cook the apples. Then measure and mix all of the ingredients in a bowl, fill trays with mixture and pop in the oven for mouth-watering apple muffins for everyone to enjoy!

"Harvesting home-grown fruit and vegetables and using them in cooking has wonderful synergies with the ECE, Te Whāriki curriculum goal of fostering Well Being - where children experience an environment where health is promoted," adds Robin.

QUICK READ

Nutritious, versatile apples – from lunchbox staple to winter warming pie or crumble, not only healthy but also delicious!

Kidsfirst Hargest Crescent have been enjoying a bumper crop of green, granny smith apples - from their very own tree.
KIDSFIRST KINDERGARTENS ARE A NOT FOR PROFIT ASSOCIATION THAT HAS DEVELOPED AND MAINTAINED KINDERGARTENS IN CHRISTCHURCH, CANTERBURY AND ON THE WEST COAST FOR OVER 100 YEARS - AS THE PLACE LOCAL KIDS COME TO LEARN, PLAY AND HAVE FUN.