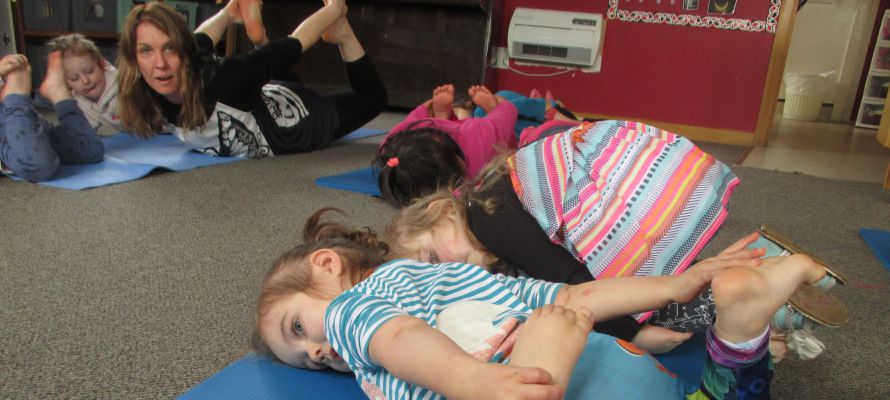 | | | |
| --- | --- | --- |
| | Flexing, bending, breathing and stretching their way to improved well-being, better resilience and more confidence are tamariki at Kidsfirst Nuffield and Ngaire Larcombe. | |
SOME OF OUR TOP STORIES

In a fantastic example of collaborative teaching, Rachel Ryan (Kidsfirst Nuffield) and Jennifer McBride (Kidsfirst Ngaire Larcombe and Nuffield ) researched how best to create a yoga programme suitable to intoduce at kindergarten.

"Jennifer and I were aware that many schools, including our local Rawhiti Primary School, initiated yoga programmes through the mental health campaign 'All Right?' to support childrens well-being," says Rachel.

Just one month into regular sessions and both kindergartens can see amazing progress already, with children now able to concentrate for longer throughout the 10-15 minute classes. It's also become a great way to re-engage brains and bodies.

"Children are naturally flexible. And yoga provides a calming opportunity to focus on body awareness and to increase confidence and positive self-image," says Rachel (below).

"It's especially helpful at the moment as the term draws to a close and children become tired. Yoga sessions help to re-energise and refocus tamariki."

"It's great to have the same yoga programme running over two kindergartens at the same time," says Jennifer (above), who teaches at both Kidsfirst Nuffield and Kidsfirst Ngaire Larcombe. "Together, we've been able to track changes, be flexible and make it work best for each individual kindergarten."

"The yoga that we do ensures pockets of calm, in what can sometimes be a busy and full on day and teaches children strategies as part of their 'self-regulation' tool box."

Classes are set to classical music – it's a way to give children a non-verbal cue that yoga is in session and they are welcome to come and join in. Feedback from whānau and the community has been overwelmingly positive.

"One parent told me their child often requests classical music at home so she can practice her yoga moves," says Rachel. "Another proudly phoned her Aunty to tell her, I do yoga now too - like you."

Meanwhile, two brothers have managed to turn the non-competitive pursuit into a yoga challenge - to see who can hold the trickiest poses the longest!

Kidsfirst Kindergartens
Head Office, 43 Birmingham Drive, Middleton, Christchurch 8024
+64 3 338 1303 email: questions@kidsfirst.org.nz
Postal Details: Kidsfirst Kindergartens, PO Box 8089, Christchurch 8440
KIDSFIRST KINDERGARTENS ARE A NOT FOR PROFIT ASSOCIATION WITH OVER 70 KINDERGARTENS AND EARLY LEARNING CENTRES COVERING CHRISTCHURCH, CANTERBURY, CENTRAL OTAGO, BANKS PENINSULA AND THE WEST COAST - AND HAS DONE SO FOR OVER 100 YEARS
- AS THE PLACE LOCAL KIDS COME TO LEARN, PLAY AND HAVE FUN.