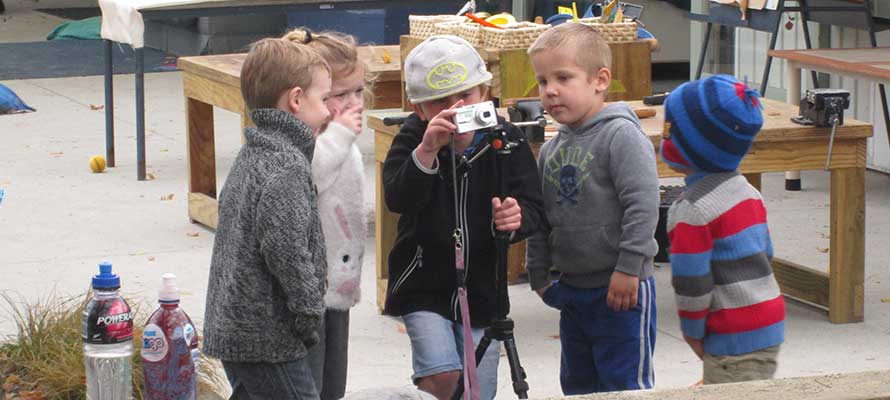 | | | |
| --- | --- | --- |
| | | Kidsfirst Sunbeam kindergarten hit the sandpit to stomp out the 'Worry Bug', as part of a Canterbury wide book launch... |
OUR TOP STORIES

NEWS FROM AROUND

CENTRAL OTAGO

Lights, camera, action! Kidsfirst Sunbeam children had a go at recording kindergarten life through the lens of a camera as part of a book launch this week.

Kidsfirst Sunbeam kindergarten was the venue for visiting media representatives to cover an initiative that will see 9000 Canterbury four year olds receive a free copy of the book "Maia and The Worry Bug", thanks to funding from The New Zealand Red Cross Canterbury Earthquake Appeal.

Registered psychologist, and book author Julie Burgess-Manning has penned the book as a resource, "to help families with mild to moderate anxiety manage their worries"- especially following the region's earthquakes.

The aim of the engaging, read aloud picture book – about an unwelcome Worry Bug that arrives uninvited into a family - is to ease anxieties by encouraging children to talk about their fears and worries, and suggested coping strategies.

Each child was rapt to tuck a free copy into their backpacks to take home.

"The book will be a good tool for parents to use when talking to children about anxiety," says Head Teacher, Neroli Gardner.

Neroli said the children were excited to be involved with the media process, "It was lovely to see whanaungatanga (belonging/connection) in action as the children welcomed the visitors into our environment."

The tamariki loved using the cameras to catch snippets of the days events through their own eyes - taking turns to squint through the eyepiece, pivot the camera on its sturdy tripod, and then hit the record button.

"The media representatives were really impressed with the way the children welcomed them into the kindergarten and blown away by how calm and inquisitive they were," adds Neroli.

The children also took to the sandpit to exuberantly stomp out the 'Worry Bug' sculpture they had created in the sand.

QUICK READ

Kidsfirst Sunbeam tamariki welcomed media representatives to their kindergarten to roll out the picture book, "Maia and The Worry bug".

Want to know more about 'Maia and The Worry Bug'…

Author Julie Burgess-Manning says, "We created the project after noticing the huge numbers of children in Canterbury who were battling with anxiety.

There are two books – "Maia and The Worry Bug" which is designed to be read at home and has exercises families can complete to help quell anxiety and "Wishes and Worries" which is designed for use in the classroom."

The books are Illustrated by award winning Canterbury illustrator, Jenny Cooper. "Wishes and Worries" is available in Te Reo, with "Maia the Worry Bug" soon to be.

Read Book Reviews here.
KIDSFIRST KINDERGARTENS ARE A NOT FOR PROFIT ASSOCIATION THAT HAS DEVELOPED AND MAINTAINED KINDERGARTENS IN CHRISTCHURCH, CANTERBURY AND ON THE WEST COAST FOR OVER 100 YEARS - AS THE PLACE LOCAL KIDS COME TO LEARN, PLAY AND HAVE FUN.