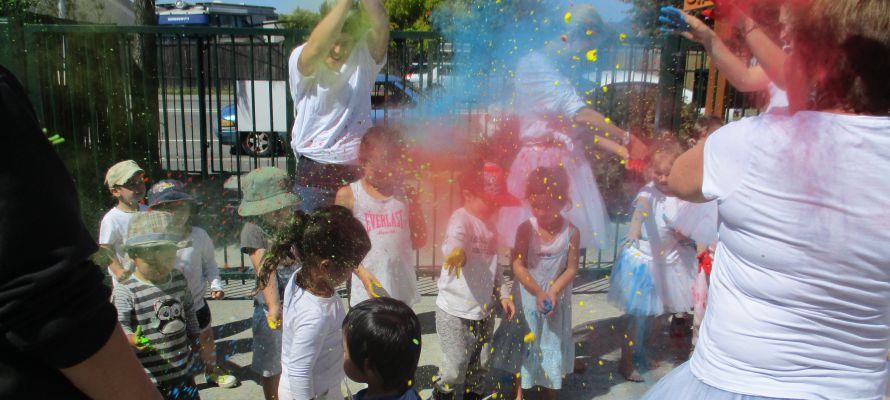 | | | |
| --- | --- | --- |
| | The diversity of families across the Kidsfirst network is incredible. Often we find what is a familiar family cultural experience for one child is completely new and fascinating to another... | |
SOME OF OUR TOP STORIES

Many of our kindergarten teachers, parents and children come from all over the world and we welcome the opportunity to share, explore and celebrate the different cultural traditions of our global kindergarten community.

And there are so many occasions throughout the year to do just that - from India's Diwali, to Chinese New Year or Pasifika festivals - we embrace them all.

Celebrating the Hindu festival, 'Holi Day,' (to honour laughter, love, playfulness and friendship) added a bright splash of fun to Kidsfirst Wigram's kindergarten day.

The kindergarten community celebrated in style with 'Bollywood' music and dance, sweet Indian food treats and the customary throwing of vibrant pops of paint onto their 'blank canvas' white clothing.

"We have a large multi-cultural community here at Kidsfirst Wigram and this was such a wonderfully rich and lively celebration to be a part of," says Teacher, Cindy Dean.

To celebrate diversity in their kindergarten community, Kidsfirst Mckenzie hold an annual 'international day.'

"We take a look at who we all are, where we're from and what's special about us," says Head Teacher, Jane Hynes. "Families are invited to wear their traditional dress, perform songs and to share their favourite cultural foods."

The Kidsfirst Kendal Ave community had lots of fun showcasing some of the traditions associated with Chinese New Year. With it's colourful dancing lion costumes, beating drums and bright lanterns, this Chinese festival is one of the most loved and anticipated by young and old alike.

Kidsfirst Glacier Country Early Learning Centre found a great way to bring the community together and immerse themselves in a different culture embracing 'Diwali' for a day with colourful traditional dress, dancing and cooking.

During Diwali (the biggest, brightest festival on the Hindu calendar, celebrated in October and November every year) it is customary for families to make sweets, decorate their houses with warm lights and lanterns and invite family and friends over to enjoy time together.

"The day had a really nice community feel to it, and the music and decorations brought Diwali to life for our Kidsfirst whānau," says Head Teacher, Tracy Hall.

Kidsfirst Ilam celebrated the South Indian vibrant harvest festival of Onam, giving their kindergarten community a fantastic opportunity to engage with other traditional cultural ways.

Celebrated over four days, Onam is the biggest and most important festival in the state of Kerala (South India). People from all walks of life get together for elaborate feasts, folk songs, elegant dances, games and majestic elephant, boat and floral decorations.

Inspired by cultural tradition, kindergarten tamariki and whānau helped create a beautiful floral carpet by carefully placing flower petals (brought from home) in a circular pattern on the floor with striking blocks of pink, crimson, red, white and yellow – with stunning effect.

Making strong cultural connections within the local community is an important part of the kindergarten experience.

Children from Kidsfirst Hoon Hay joined neighbouring Rowley Primary School for cultural performances, speeches and kai to celebrate Samoan language week (28 Mē/May to 3 Iuni/June).

Learning legends, making artwork with stenciled cultural patterns, screen printing and cooking koko alaisa (cocoa rice) and fãausi (sweet baked pumpkin bread with a coconut and caramel sauce) was enjoyed by all.

Tongan traditional clothing was brought to life at Kidsfirst Niu Early Learning Centre as part of their Tongan language week celebrations.

Traditionally in Tonga, a taʻovala (a woven mat) is worn over a tupenu (similar to a sarong) and fastened with a kafa (braided belt), with beautiful ornate decorations from nature like coconut and sea shells or flowers.

"We had so much lovely community support and involvement," says Head Teacher, Stephanie Olliver. "Children were dressed beautifully and spent time crafting, talking and sharing amazing traditional food."

And in other kindergarten world news…

With an array of social media at our fingertips, catching up with far away friends and family is easy - but it's fun when global connections land right in our letterbox too.

Tamariki at Central Otago's Kidsfirst Wakatipu explored their whakapapa, (genealogy/cultural identity) and wider community, with letter writing to extended whānau all over New Zealand and parts of the world!

What a great opportunity to make connections and share a slice of kindergarten life with loved ones in distant places.

And Kidsfirst Lincoln kindergarten were rapt to receive a very special letter all the way from England…

Tamariki had sent some right royal birthday cheer to the Queen in an illustrated card, complete with some curious questions such as: "How heavy is your crown" and "We know you like horses and Corgi dogs, but do you have a cat?"

The Queens response read: "I send you my grateful thanks for the kind words you have sent to me on the occasion of my ninetieth birthday." - Elizabeth R.

As is tradition across the British Commonwealth, we wonder… will the Queen receive a letter from herself on her one hundredth birthday?

We know the value of sharing each of our family's unique cultures and traditions. There is so much for the whole kindergarten community to gain from all different kinds of global connections.
Information including that about fees, services and promotional activities were correct at the date of publication of news stories but may since have changed. Please check with us to ensure information is current.