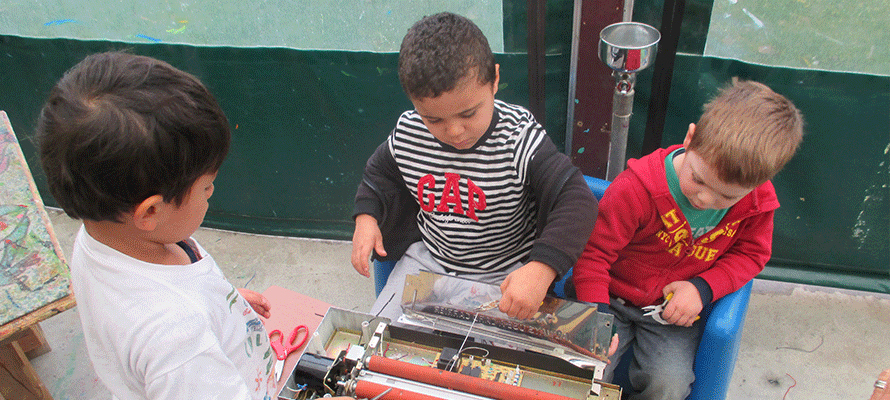 | | | |
| --- | --- | --- |
| | | So many learning opportunities to be had when you peek inside different machines and discover all the working parts... |
OUR TOP STORIES

NEWS FROM AROUND

CENTRAL OTAGO

From intricate moving parts to mighty contraptions, tamariki at Kidsfirst Frankton were intrigued to tinker 'under the hood' of different machines to explore their inner workings.

The children's interest in pulling apart a piece of machinery to discover more about the working parts inside was inspired by a sewing project.

"We noticed a few children studying the mechanics of the sewing machine and how it all worked," says Head Teacher, Jacqueline Harding. "They followed the pathways of threading, explored the bobbin and the mechanics of the needle."

Next to come under intense scrutiny was an old laminator. Faces were etched with focused attention while deconstructing the machine, then utter amazement to discover all the inner workings of rollers, wires, circular cogs and metal brackets.

Following that a donated washing machine provided weeks of wonderment as the children tenaciously worked together to loosen and disable the machine.

"Their determination to access every part and undo every facet of the machine kept them busy for weeks," says Jacque.

Copper wire was discovered. Various parts were carted off to the carpentry table to create further pieces or to smash into smithereens. Even the control panel was carefully examined to inspect the mechanisms behind each button.

All that is not to mention the 'Eureka' moment when children realised magnets stuck to the washing machine shell!

After a hard day's work, children unwound to a spot of target practice throwing magnets. With golf balls added to the mix the 'ping' or 'drum' of the target being hit resonated throughout the playground – "bullseye."

QUICK READ

Welcome to the working parts project at Kidsfirst Frankton. Children have been happily occupied for weeks pulling apart different machines to discover the just what makes them tick.

LEARNING OPPORTUNITIES

Practical, hands-on learning to deconstruct machines large and small.
Working together and following a process to achieve the desired result.
Using prior knowledge to figure out the next step of the deconstruction process.
KIDSFIRST KINDERGARTENS ARE A NOT FOR PROFIT ASSOCIATION THAT HAS DEVELOPED AND MAINTAINED KINDERGARTENS IN CHRISTCHURCH, CANTERBURY AND ON THE WEST COAST FOR OVER 100 YEARS - AS THE PLACE LOCAL KIDS COME TO LEARN, PLAY AND HAVE FUN.