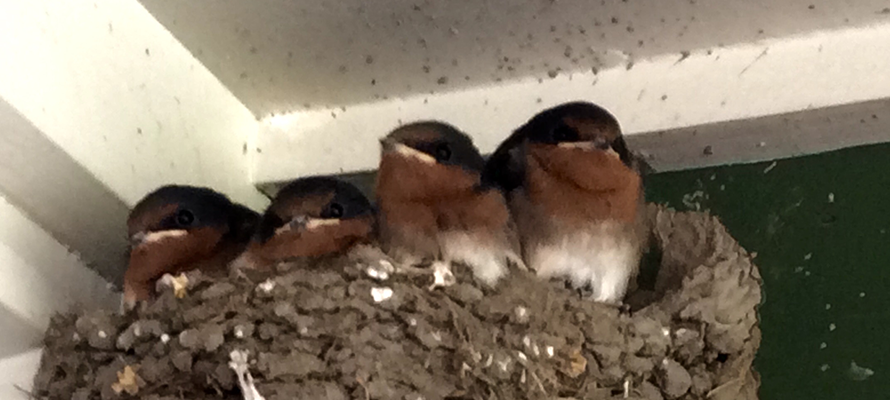 | | | |
| --- | --- | --- |
| | | Kidsfirst Woolley Street welcomed a family of lovely swallows, who have spent the spring, warm and snug, under the eaves of the kindergarten verandah. |
OUR TOP STORIES:

At Kidsfirst our outdoor settings reflect the importance we place on our beautiful, natural garden environments, and the wildlife in it.

So when a family of swallows built a nest in the eave of the entranceway at Kidsfirst Woolley Street, they were welcomed.

Often found around lakes and waterways, swallows are small, elegant, fast-flying birds, with a red coloured head, blue-black long pointed wings and a forked tail. Swallows are a pleasure to watch, as they dart about, and because they like to nest around buildings, it's easy to notice and appreciate them.

"This family of swallows have been building nests under our veranda for the past three years and have had a multitude of babies in this time," says Head Teacher Sophie Thompson.

Each spring the children are always absolutely mesmerised as they watch the swallows build their cosy nest from layers of mud and grass. The swallows are social little birds and don't seem phased at all by the daily hustle and bustle of the busy entranceway below. In fact, they look right at home with their comfortable warm, dry spot.

"They are beautiful to watch as they flit and fly, often just above our heads. The children have been transfixed by them," says Sophie.

This spring saw a family of five cute and fluffy baby swallows sharing the nest. They have just recently grown fully-fledged and have flown the nest. No break for the swallow parents though, whose hectic schedule will likely include another batch of babies before the summer is out.

"The swallow family has inspired the children to build their own nests out of a range of materials and helped us discuss how homes in our own local whenua/area are still being regularly rebuilt after the earthquake," says Sophie.

What a wonderful way for the children to learn about new things in nature.

QUICK READ

Kidsfirst Woolley Street have loved having a family of beautiful swallows nesting in the kindergarten entranceway. The children watched as the parents built a cosy nest and attentively fed the baby birds as they grew. Eventually, the children could count five cute little fluffy heads peeking out of the nest...
KIDSFIRST KINDERGARTENS ARE A NOT FOR PROFIT ASSOCIATION THAT HAS DEVELOPED AND MAINTAINED KINDERGARTENS IN CHRISTCHURCH, CANTERBURY AND ON THE WEST COAST FOR OVER 100 YEARS - AS THE PLACE LOCAL KIDS COME TO LEARN, PLAY AND HAVE FUN.