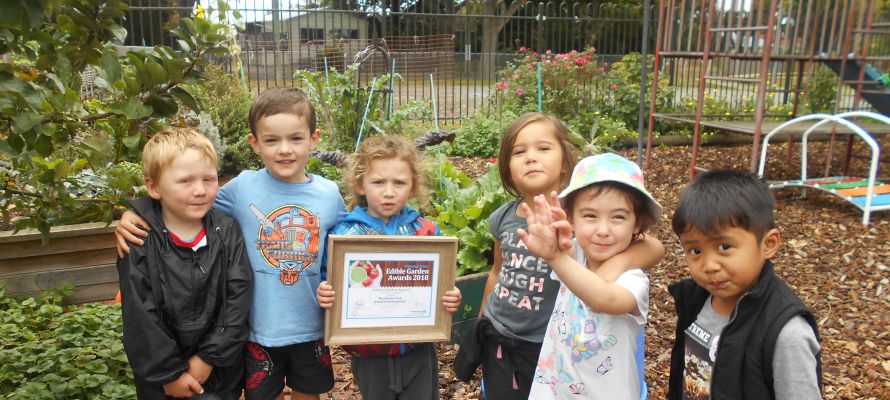 Edible garden award win
Rhubarb crumble, cauliflower with cheese, or silverbeet pie – how many recipes can you think of to whip up from Kidsfirst MacFarlane Park's prize winning fruit and vegetable patch? There's always something to celebrate about our big backyards at kindergarten.

FIND OUT WHY WE'RE JUST BETTER BECAUSE...

Kidsfirst MacFarlane Park tamariki and whānau help tend tomatoes, cauliflower, brocolli, rhubarb, celery, silverbeet, apples, black boy peaches and an array of herbs that flourish in both their kindy garden and down at the local community garden.


And their tending and watering efforts have grown recognition even beyond nourishing the community with fresh food: this green-fingered team won an Edible Garden award from the Canterbury Horitcultural Society and the Papanui-Innes Community Board of the Christchurch City Council.

The awards celebrate local communities who are passionate about their gardens and edible harvests.

Children at this kindergarten love to get out and plant seeds, help to weed and feed their plants so they grow up tall and leafy. There is so much to learn about the lifecycle of a seed through to a plant, what conditions plants need to thrive, as well as discovering what each fruit and vegetable from the resulting harvest looks and tastes like.

Using these tasty treasures from the earth, we can choose from many healthy morning tea options to mix and bake, or provide some of what we've grown to whānau. This way we all learn even more about healthy hearts, 5+ a day, and how we can help ourselves to feel upbeat and energised using the vitamins and minerals in these raw ingredients.

Having been proud Edible Garden award recipients once before – in the 2017 awards – everyone involved is again very grateful and encouraged to get into even more growing.

Kidsfirst MacFarlane Park Head Teacher, Helen O'Connell said, "The children and families were very excited to once again receive an award for all of their hard work in at kindergarten and at our community garden."

This is something for the kindergarten to be very proud of. Each of our Kidsfirst backyards is unique and provides different challenges for growing young minds. The natural plantings, bike and scooter tracks, interesting terrain, and sandpits, combined with vegetable gardens are a great source of inspiration for children and teachers.

Our outdoor spaces contribute so much to our understanding and respect for the NZ environment, mother nature, and sense of self, health and well-being.



.

Kidsfirst Kindergartens
Head Office, 43 Birmingham Drive, Middleton, Christchurch 8024
+64 3 338 1303 email: questions@kidsfirst.org.nz
Postal Details: Kidsfirst Kindergartens, PO Box 8089, Christchurch 8440
KIDSFIRST KINDERGARTENS ARE A NOT FOR PROFIT ASSOCIATION WITH OVER 70 KINDERGARTENS AND EARLY LEARNING CENTRES COVERING CHRISTCHURCH, CANTERBURY, CENTRAL OTAGO, BANKS PENINSULA AND THE WEST COAST - AND HAS DONE SO FOR OVER 100 YEARS
- AS THE PLACE LOCAL KIDS COME TO LEARN, PLAY AND HAVE FUN.