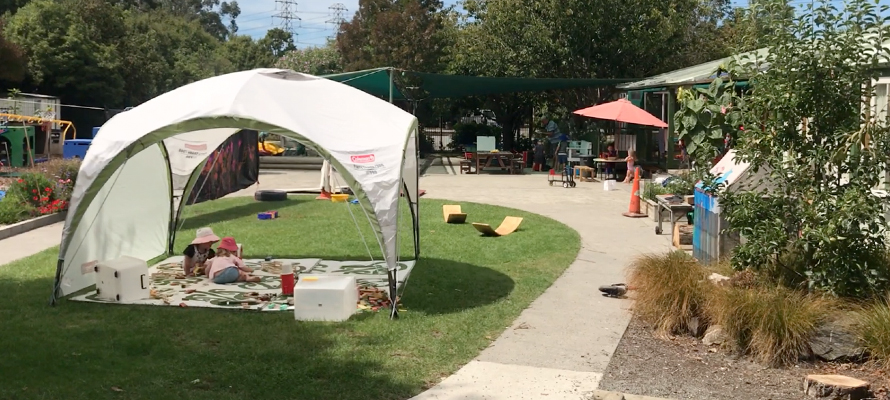 Our great big backyards have something for everyone.
We take huge pride in celebrating our outdoor spaces, with plenty of room to move, investigate, explore and develop.

FIND OUT WHY WE'RE JUST BETTER BECAUSE...

We asked teachers around Kidsfirst just what it is about their outdoor area they love most.

"We have so much space to practice all kinds of sports such as tennis, hockey, soccer and rugby," says Head Teacher at Kidsfirst Ilam, Christine Putt. "Our large sandpit allows for lots of exploration with water or making muddy puddles. We enjoy established trees for natural shade, hanging swings and a solar shower too."

SOLAR SHOWER HANGS FROM A TREE IN KIDSFIRST ILAM'S BIG BACKYARD

Sarah Scrase, Head Teacher at Kidsfirst Riccarton says its really important to be able to offer a big backyard at their kindergarten. "It's quite a built-up, urban area around here so not all children get the opportunity for space to play in a natural environment at home." And they have a great garden to learn how to plant, grow, harvest and cook healthy fruit and vegetables.

"At Kidsfirst Wales Street we have a wonderfully spacious outdoor environment with chances for children to explore, play, be creative and dramatic or peaceful and quiet. The boulder river with its natural feel and flowing water has been a favourite, especially during the hot days" says Head Teacher, June King.

THE BOULDER RIVER AT KIDSFIRST WALES STREET

The bike track is lined with native plantings and some lavender bushes that tamariki love to stop and smell or pick and give to each other. "And we grow kale and silver beet to feed our guinea pig Jelly Bean - who has got quite discerning these days, now only eating fresh not wilted offerings!"

Day after day this summer they've harvested a bumper crop of strawberries, and "even if a day's harvest is small, children insist each strawberry is cut up (for all) to share."

A pile of logs under the trees at Kidsfirst Parklands encourages bugs to inhabit and makes a fantastic natural zone for children to discover and explore. "As children find each little creature, they learn more about the world around them with teachers learning alongside too," says Relieving Teacher, Helen Smith.

A turangawaewae garden and butterfly whare provide wonderful places for tamariki to explore nature at Kidsfirst Lincoln. Cherry trees and a climbing tree (planted to commemorate important dates or people and creating lovely links to the kindergartens past) "provide beautiful markers for all of the seasons and are well-known features our space," says Head Teacher, Joyce McHerron.

LEARNING TO LOVE THE LITTLE CREATURES WE SHARE THE WORLD WITH.

Just as every kindergarten is different, so is every 'backyard' although they all share common denominators of plenty of room, grass to run on, trees and sandpits...

We think they're great!

THE CLIMBING TREE AT KIDSFIRST LINCOLN IS A GREAT SPOT FOR NEW ADVENTURES

.

Kidsfirst Kindergartens
Head Office, 43 Birmingham Drive, Middleton, Christchurch 8024
+64 3 338 1303 email: questions@kidsfirst.org.nz
Postal Details: Kidsfirst Kindergartens, PO Box 8089, Christchurch 8440
KIDSFIRST KINDERGARTENS ARE A NOT FOR PROFIT ASSOCIATION WITH OVER 70 KINDERGARTENS AND EARLY LEARNING CENTRES COVERING CHRISTCHURCH, CANTERBURY, CENTRAL OTAGO, BANKS PENINSULA AND THE WEST COAST - AND HAS DONE SO FOR OVER 100 YEARS
- AS THE PLACE LOCAL KIDS COME TO LEARN, PLAY AND HAVE FUN.