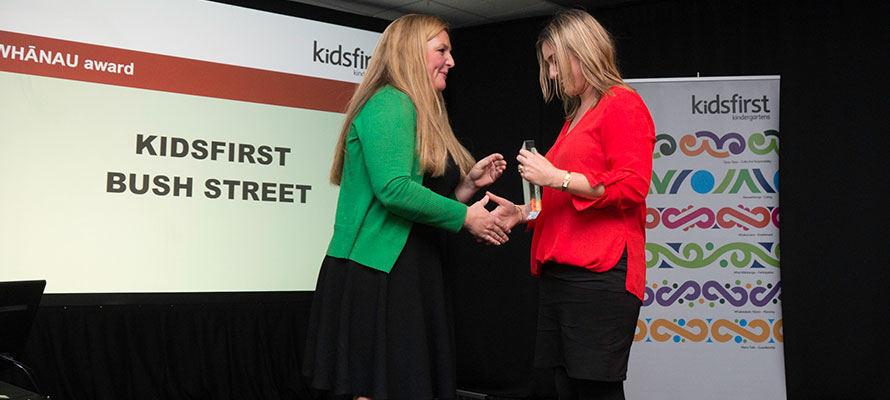 OUR TOP STORIES:

Kidsfirst Kindergartens Bush Street won the Whānau Award 2015, for the Kidsfirst At Our Hearts Awards, celebrated at the AGM in May.

The judges said Kidsfirst Bush Street are a whānau in the true sense of the word and people are at the heart of everything they do; their day-to-day interactions, the programme and their environment. All supported by their vision to promote community, connections and relationships.

The importance of whānau is valued at Kidsfirst Bush Street through a practice the teachers call 'personal story'. These personal stories are captured in children's individual learning portfolios and connections are made and celebrated during wa whānau (family time). This kindergarten is a place where living and learning are one, parents and teachers are one – learning together and taking responsibility.

HEAR WHAT ESM KATHRYN OCONNEL-SUTHERLAND HAS TO SAY...

Whānau is all about tātou tātou (collective responsibility) and this is "central to a strong community where reciprocal relationships of giving and receiving are what we aspire to."

ERO recently described Kidsfirst Bush Street as having "strong and positive learning partnerships," and noted how parents are, "actively involved in decisions about the kindergarten and their children's learning." Here they willingly share information and help the children and teachers to make learning meaningful for children.

During the ERO visit to Kidsfirst Bush Street a group of parents approached them and asked them to come into the office. One reviewer said, "this is not something we usually do," but twenty minutes later they all emerged from the the room. The look on the children's faces was one of a real sense of importance and accomplishment because they had had the opportunity to ask questions and be involved in the review of their kindergarten.

In this kind of collaborative setting the parents have agency – to help make the decisions, are empowered to contribute in meaningful ways and have opportunities for leadership. Such as the parent run notice board where they exchange clothes and produce, share exciting community events, welcome new whānau and invite families along to their parent group. The connections made through the Community Learning Cluster, Tuahuriri, and the Early Years Transition group support whānau above and beyond their early childhood education (ECE) experience. What wonderful positive whānau and community connections.

Congratulations to the team at Kidsfirst Bush Street.

Whānau is the value that stands out above the rest for the teaching team at Kidsfirst Bush Street. As well as receiving 2015's award, the Education Review Office (ERO) also recognised how the close integration of whānau at Kidsfirst Bush Street enhanced the programme and experiences offered there. Head Teacher, Anne Smith expresses her team's pride in both achievements, "To be acknowledged for an area we've put a lot of effort into is very rewarding and goes to show anything is possible."

The Kidsfirst At Our Heart Awards reflect the core values of Kidsfirst

and what we believe in.

... with people, places, opportunities, ideas and our heritage



... and always striving
to do more

of the difference we make in lives, every day

People are at our heart

We love what we do
and it shows
KIDSFIRST KINDERGARTENS ARE A NOT FOR PROFIT ASSOCIATION THAT HAS DEVELOPED AND MAINTAINED KINDERGARTENS IN CHRISTCHURCH, CANTERBURY AND ON THE WEST COAST FOR OVER 100 YEARS - AS THE PLACE LOCAL KIDS COME TO LEARN, PLAY AND HAVE FUN.