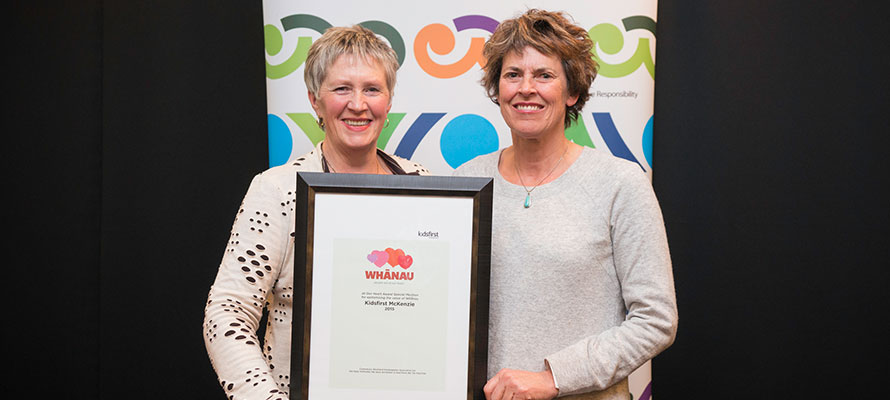 OUR TOP STORIES:

Kidsfirst Kindergartens McKenzie received a highly commended in the Whānau Award 2015, for the Kidsfirst At Our Hearts Awards celebrated at the AGM in May.

The team at McKenzie put people and relationships at the heart of all they do. Parents say, "this kindergarten is the next best thing to home."

The vibrant and diverse community are well supported by authentic relationships with teachers enabling a strong sense of belonging and wellbeing in the kindergarten environment. Teachers have recently created their own profile books to share their own stories and learning with children and families.

Here at Kidsfirst McKenzie there is an atmosphere of celebration, sharing and being strong in ones own culture and identity - bringing the value of whānau alive in this kindergarten. Many celebrations are held and well-supported by families who contribute and participate in meaningful ways over the year. These include Matariki, Chinese New Year, Diwali, Japan Day, International Day, Maori and Samoan language week. The list grows each year in response to whānau and community aspirations.

A current project to create murals that celebrate the heritage, place and kindergarten community is all about whānau contribution. The teams presentation at the recent Professional Learning Hui highlighted their work around the competencies and concepts of Whanaungatanga (family connection) and Manaakitanga (care for others) in a richly diverse multicultural setting.

Congratulations to the team at Kidsfirst McKenzie.

The Kidsfirst At Our Heart Awards reflect the core values of Kidsfirst

and what we believe in.

... with people, places, opportunities, ideas and our heritage



... and always striving
to do more

of the difference we make in lives, every day

People are at our heart

We love what we do
and it shows
KIDSFIRST KINDERGARTENS ARE A NOT FOR PROFIT ASSOCIATION THAT HAS DEVELOPED AND MAINTAINED KINDERGARTENS IN CHRISTCHURCH, CANTERBURY AND ON THE WEST COAST FOR OVER 100 YEARS - AS THE PLACE LOCAL KIDS COME TO LEARN, PLAY AND HAVE FUN.