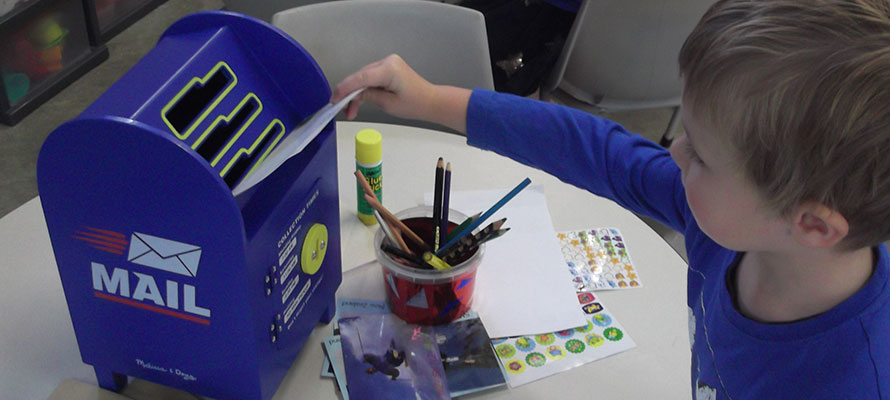 | | | |
| --- | --- | --- |
| | We're so very proud of all the fun, creative ways teachers help tamariki to make connections within their local community, around New Zealand and further out into the big wide world... | |
SOME OF OUR TOP STORIES

Our teachers think up all sorts of fantastic ways to broaden our tamariki's horizons. It could be learning new things online, having a person of interest visit kindergarten to give a talk, or by organising a trip to the local park, the museum, art gallery or a local landmark.

For tamariki at Central Otago's Kidsfirst Wakatipu it was exploring their whakapapa, (genealogy/cultural identity) and their place in the wider community, with letter writing to extended whānau all over New Zealand and other parts of the world!

With an array of social media at our fingertips, catching up with far away friends and family is easy - but nothing beats the joy and anticipation of receiving an intriguing parcel or newsy letter in the post!

"The delivery of a new 'kindergarten postbox' had sparked the children's interest and inspired a spontaneous walk to the post office," says Teacher, Laura Strain.

Children checked out what happens behind the scenes, collected the kindergarten's mail and bought some stamps - so they could write and send their very own letters.

What a great opportunity to make connections and share a slice of kindergarten life with loved ones in distant places.

"...not to mention the excitement of getting to know extended whānau better when the replies land back at the kindergarten letterbox," adds Laura.

Speaking of world post - it's not every day you get mail from the Queen!

On return from the summer holidays, Kidsfirst Lincoln were excited to spot an envelope in their letterbox stamped Her Majesty Queen Elizabeth, Buckingham Palace!

The Queen's letter was in response to some right royal cheer tamariki sent last year in a giant card, packed with beautiful artwork and best wishes.

The letter read: "I send you my grateful thanks for the kind words you have sent to me on the occasion of my ninetieth birthday." - Elizabeth R 2016.
Information including that about fees, services and promotional activities were correct at the date of publication of news stories but may since have changed. Please check with us to ensure information is current.