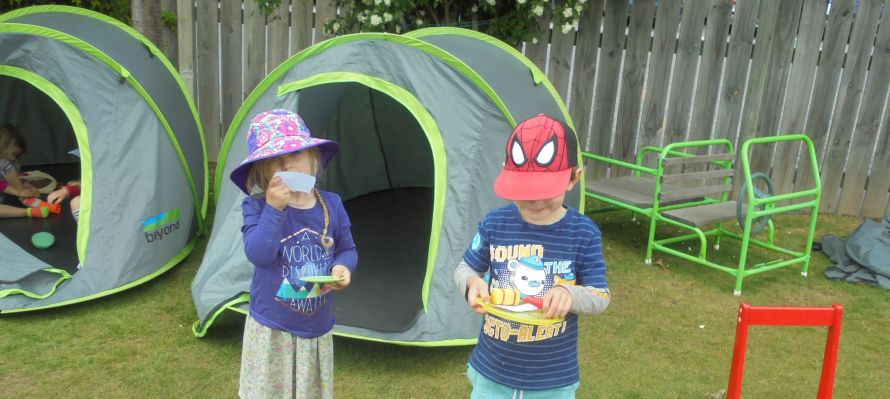 Happy campers.
We want people to know our great big backyards are BETTER BECAUSE we can accommodate all of the wonderful outdoor exploration and discovery, that is so important during the early years of learning.

FIND OUT WHY WE'RE JUST BETTER BECAUSE...

"Lots of green, native plantings and interesting nooks and crannies to play in," is how Lynne Godden, Teacher at Kidsfirst Wakatipu describes their big backyard.

"It's an amazing environment, especially with our stunning, mountain backdrop." Not to mention the many different colourful coats doned outdoors throughout the four seasons.

This summer, tamariki have been enjoying a new spider web swing, with lots of learning around collaboration, taking turns and helping to push each other.

The new 'spider web' swing at Kidsfirst Wakatipu.

"The challenge of the monkey bars and racing toy trucks down the grassy slope are other favourite outdoor pursuits," says Lynne.

"The different outdoor spaces to spend time in, explore and to try and practice new things, gives children a real sense of accomplishment."

And who can pass up the chance for a spot of outdoor camping, kiwi style? The happy memories of recent summer holiday adventures have played out with pop-up tents and re-enacting barbeques and picnics with family and friends.

Children role-play the joy of summer camping with pop-up tents in their big backyard.

.

Kidsfirst Kindergartens
Head Office, 43 Birmingham Drive, Middleton, Christchurch 8024
+64 3 338 1303 email: questions@kidsfirst.org.nz
Postal Details: Kidsfirst Kindergartens, PO Box 8089, Christchurch 8440
KIDSFIRST KINDERGARTENS ARE A NOT FOR PROFIT ASSOCIATION WITH OVER 70 KINDERGARTENS AND EARLY LEARNING CENTRES COVERING CHRISTCHURCH, CANTERBURY, CENTRAL OTAGO, BANKS PENINSULA AND THE WEST COAST - AND HAS DONE SO FOR OVER 100 YEARS
- AS THE PLACE LOCAL KIDS COME TO LEARN, PLAY AND HAVE FUN.