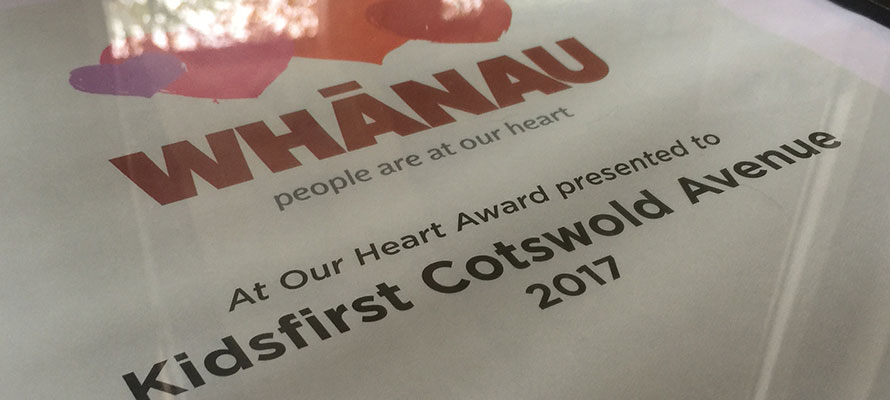 | | | |
| --- | --- | --- |
| | Kidsfirst Kindergartens At Our Heart Awards recognise the kindergartens, early learning centres and individuals who epitomise our core values... | |
SOME OF OUR TOP STORIES

Congratulations to our Whānau Certificate Winner, Kidsfirst Kindergartens Cotswold Ave, recognised in the 2017 At Our Heart Awards, presented at the AGM in May.

Our values are very important to us as an association and we're so proud to be able to celebrate them in this way. Whānau is all about people. It's about making and maintaining connections – because at the core, that's what we're all about.

A strong connection with whānau at Kidsfirst Cotswold Ave is reflected in the many close relationships formed at kindergarten.

Parents enjoy the open door policy and are only too happy to be involved and support tamariki – with the weekly library, for fundraising and in many other regular kindergarten experiences.

Tamariki are part of a special Kidsfirst Cotswold welcome for any visitors, show pride in their kindergarten and contribute ideas to enhance the bicultural emphasis within their environment.

Congratulations Kidsfirst Cotswold Ave!

Although we celebrate these values each year with awards and certificates, we know that tamariki, families and communities see the behaviours and commitment associated with our values every day, in so many different ways in all of our wonderful kindergartens across the network. So congratulations and keep doing what you're doing so well.
Information including that about fees, services and promotional activities were correct at the date of publication of news stories but may since have changed. Please check with us to ensure information is current.