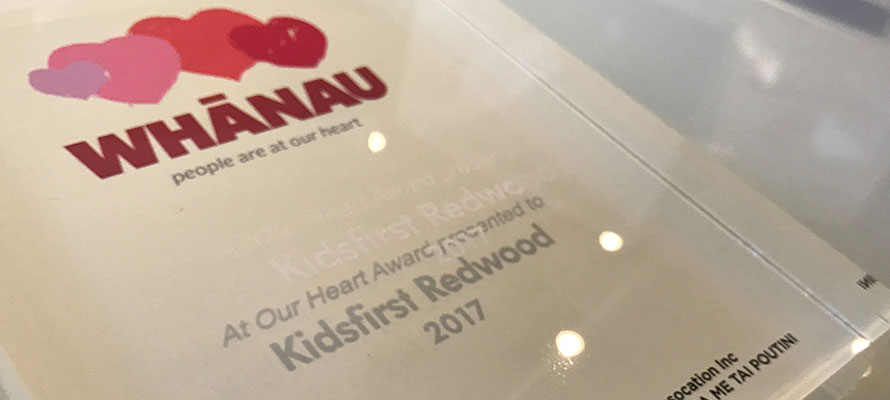 | | | |
| --- | --- | --- |
| | Kidsfirst Kindergartens At Our Heart Awards recognise the kindergartens, early learning centres and individuals who epitomise our core values... | |
SOME OF OUR TOP STORIES

Congratulations to Kidsfirst Kindergartens Redwood, the Whānau Award winner, recognised in the 2017 At Our Heart Awards, presented at the AGM in May.

Our values are very important to us as an association and we're so proud to be able to celebrate them in this way. Whānau is all about people. It's about making and maintaining connections – because at the core, that's what we're all about.

Whakawhanaungatanga (establishing relationships) is at the heart of everything the Kidsfirst Redwood teaching team do. They strive for a truly authentic partnership approach to teaching and learning alongside tangata whenua (people of the land).

The team visited Waitangi (as well as Te Papa and Archives NZ, in Wellington) to find out more about Te Tiriti o Waitangi - The Treaty of Waitangi, and felt "excited, thankful, privileged and humbled" to have such an amazing bicultural experience.

A pounamu was gifted in a special ceremony as they farewelled their Head Teacher to embark on her new role as ESM (Education Services Manager) and a mihi whakatau welcomed their new teacher to the team.

Congratulations Kidsfirst Redwood!

Although we celebrate these values each year with awards and certificates, we know that tamariki, families and communities see the behaviours and commitment associated with our values every day, in so many different ways in all of our wonderful kindergartens across the network. So congratulations and keep doing what you're doing so well.


KIDSFIRST KINDERGARTENS ARE A NOT FOR PROFIT ASSOCIATION THAT HAS DEVELOPED AND MAINTAINED KINDERGARTENS IN CHRISTCHURCH, CANTERBURY AND ON THE WEST COAST FOR OVER 100 YEARS - AS THE PLACE LOCAL KIDS COME TO LEARN, PLAY AND HAVE FUN.