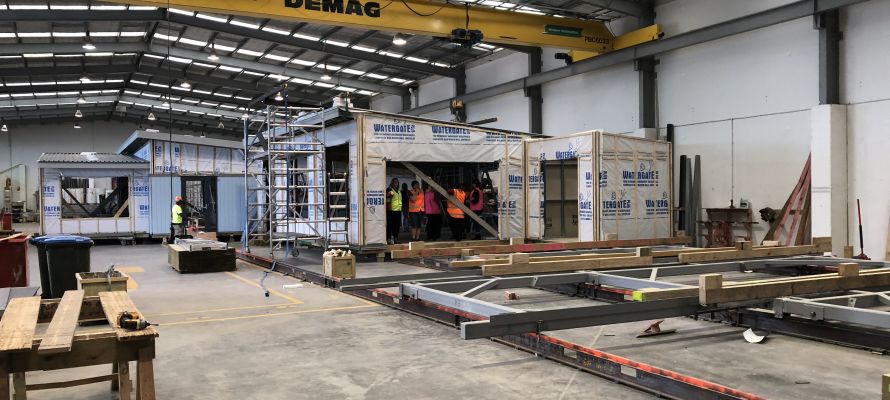 Tour brings new kindergarten to life
There's a buzz around Mt Pleasant over the brand new Kidsfirst Kindergartens The Bays build! Take a sneak peak with our video tour to explore the buildings under construction on the factory floor.

FIND OUT WHY WE'RE JUST BETTER BECAUSE...

Our behind the scenes footage follows a special group of visitors, who had the chance to see the seven modular kindergarten buildings virtually complete, before being transported to their McCormacks Bay Road site.

Enjoying the walkthrough were Kidsfirst Kindergartens Board Chair Viv Ruth, CE Sherryll Wilson, Business Development Manager, Jenny Pitama, our fantastic The Bays teachers and a small group of parents.

The tour really brought the new kindergarten to life with our visitors commenting, "We've seen the plans and the ideas, but to see it in reality – amazing!

And, "It's very exciting, I think it will be wonderful."

Kidsfirst The Bays is due to open at the start of term three, in July. As it becomes a reality, excitement is building for the Mt Pleasant kindergarten community, who have been operating out of a local church hall since 2011.

"We really appreciate all of the community support and loyalty that has helped get us to this point and we can't wait to open our doors to local families, whether they are new to Kidsfirst, or coming from the Mt Pleasant kindergarten," says Jenny.

The Mount Pleasant kindergarten community and special guests were there to watch as each module was carefully lowered into place on-site.

The Mt Pleasant kindergarten community on their way to watch the modules arrival on-site.

Kidsfirst CE, Sherryll Wilson and Business Development Manager, Jenny Pitama (above)

and a child (below) don safety gear for the visit.

Kidsfirst The Bays is the latest addition to our already 70 plus kindergartens and early learning centres across the network spanning Canterbury, Banks Peninsula, Central Otago and the West Coast.

The kindergarten has been specifically designed for its coastal location featuring a large, tree-filled backyard inspired by nature, a state of the art playground and open-plan indoor spaces that take in beautiful views across the estuary.

Nestled right next door to the Mt Pleasant Community Centre, the kindergarten will cater to young families in Mt Pleasant, Redcliffs and the surrounding areas. It offers 30 free hours per week with spaces available for up to forty children, aged 2-5 years.

We offer the perfect environments for curious young minds with a keeness to explore and a desire to be active and run around. Great big backyards, teachers who really care, and educational programmes tailored to the needs and interests of each child to make learning fun.

We can't wait to open our doors to families!

.

Kidsfirst Kindergartens
Head Office, 43 Birmingham Drive, Middleton, Christchurch 8024
+64 3 338 1303email: questions@kidsfirst.org.nz
Postal Details: Kidsfirst Kindergartens, PO Box 8089, Christchurch 8440
KIDSFIRST KINDERGARTENS ARE A NOT FOR PROFIT ASSOCIATION WITH OVER 70 KINDERGARTENS AND EARLY LEARNING CENTRES COVERING CHRISTCHURCH, CANTERBURY, CENTRAL OTAGO, BANKS PENINSULA AND THE WEST COAST - AND HAS DONE SO FOR OVER 100 YEARS
- AS THE PLACE LOCAL KIDS COME TO LEARN, PLAY AND HAVE FUN.