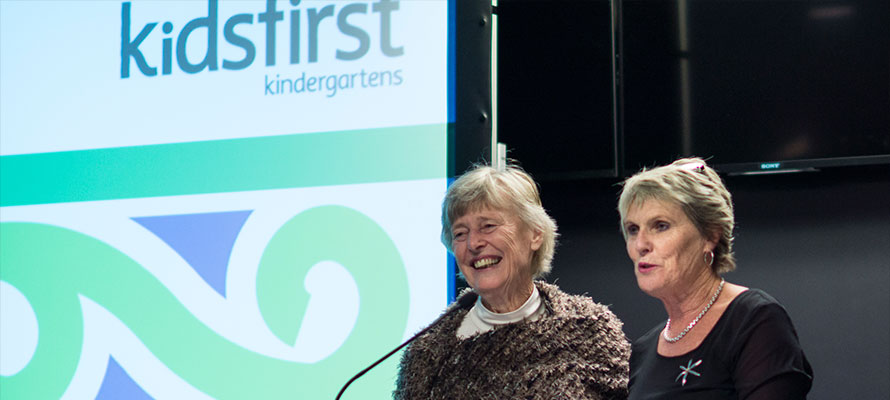 | | | |
| --- | --- | --- |
| | | There were surprises in-store at the AGM this year, when the first Kidsfirst At Our Hearts Awards were given out to well deserving kindergartens. |
SOME OF OUR STORIES.

ABOVE: Kidsfirst Chief Executive Sherryll Wilson announcing the At Our Heart awards at the Annual General Meeting.

None of the recipients knew in advance, despite all being caught on video in the weeks beforehand talking about the values. Whilst this year's awards decisions were made at Head Office, the intention is that all our teachers will have the opportunity to be involved with nominations and judging in the years ahead.

There were five At Our Heart Awards given out, with many other kindergartens being recognised with certificates for their efforts in bringing the values to life, every day.

ABOVE: The 2014 At Our Heart Winners. From left to right, Jocelyn Cameron on behalf of Kidsfirst King Street, Hilary Waller for Kidsfirst Edmonds Smith Street Chandra Parkinson from Birmingham Drive, Board Chair Jan Forsyth, Chief Executive Sherryll Wilson, and Jeanne Williams for Kidsfirst Lincoln. Below, you'll see the Kidsfirst Redwood team in their values t-shirts.

Winners: Kidsfirst King Street

Highly Commended: Kidsfirst Lady May

The team at Kidsfirst King Street know the value of being engaged. They say they're proudly a part of the local community, getting involved and acting as a hub for the parents and whānau of the children who come to the kindergarten.

"Engagement talks about relationships," says Head Teacher Jocelyn Cameron. "Connecting links with home is fundamental to our curriculum. We connect to our community by networking with our parents."

With victory on the Kidsfirst's Facebook Balloon Day Competition behind them, and such strong connections in Rangiora, it's obvious Kidsfirst King Street has what it takes to understand engagement.

Winners: Kidsfirst Edmonds Smith Street

Highly Commended: Kidsfirst Hillmorton, Kidsfirst Broomfield, Kidsfirst Portsmouth Street, Kidsfirst Karoro

Whānau is what it's all about for the team at Kidsfirst Edmonds Smith Street. Hilary Waller, Head Teacher, says it has to be the kindergarten that promotes itself "and makes people want to come and be involved, sit down and chat amongst themselves. And then they start helping out as they watch how we model it."

"We don't force it. We had a father who used to come in and sing waiatas and nursery rhymes in Maori. We've had Mums who will come in and cook... they don't realise just how much help they're being until we tell them at the end of the day."

Highly Commended: Kidsfirst McKenzie

It's pride when you wear your values on a t-shirt, bringing them that much closer to your heart. Head Teacher Lyndell Turner bought the t-shirts for her team to wear on Vintage Car Day, during our fantastic 100 Days of Kidsfirst celebrations.

ABOVE: Kidsfirst Redwood, with Head Teacher Lyndell Turner (right) posing with their Values t-shirts.

"The pride thing comes back from having that sense of purpose. When I think of being proud, I think of being professional. I'm proud of the organisation that I work with. I'm proud of being a kinder-garten teacher, but that's because I view it as important. I want to be proud when people walk in and go 'oh, this kindergarten looks like a place of learning, like an exciting place to be.' "

Winners: Kidsfirst Lincoln

Highly Commended: Kidsfirst Ilam, Kidsfirst Belfast

The Kidsfirst Lincoln team has a shared vision and enthusiasm for the teaching that goes on at their kindergarten. That passion shows and was recognised with their At Our Heart Award.

Head Teacher Jeanne Williams says, "If you've got the passion for something, you will move mountains. It's about your attitude as a team. This is what we want to do. This is what we are here for.

"I love doing this doing this job because I learn something new every day, and I learn from the children every day, and we have fun together. I truly believe all of us see children as capable, confident learners that can contribute. We value their sense of belonging, and we value the relationships that we build with them."

Winners: Chandra Parkinson at Birmingham Drive

Highly Commended: Kidsfirst Rutland Street

Birmingham Drive's Chandra Parkinson received the At Our Heart Award for Inspiration.

"The values talk about what you do with respect for others, from the beginning, right through," Chandra says. "It's having the passion not only for what you're doing on a daily basis, but the passion for what you belong to. If we don't have the passion for the organisation, we're not going to go on another 100 years."

"It's about the people, but at the cente of it, it's also about doing what we do, really well."

QUICK READ

At the Kidsfirst Annual General Meeting, a new set of awards were announced, corresp-onding with our five At Our Heart Values.

Read on to find out who the winners were!
KIDSFIRST KINDERGARTENS ARE A NOT FOR PROFIT ASSOCIATION THAT HAS DEVELOPED AND MAINTAINED KINDERGARTENS IN CHRISTCHURCH, CANTERBURY AND ON THE WEST COAST FOR OVER 100 YEARS - AS THE PLACE LOCAL KIDS COME TO LEARN, PLAY AND HAVE FUN.