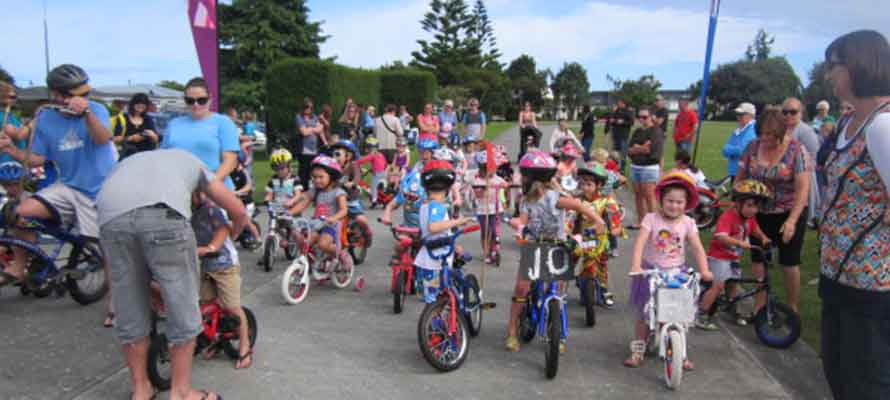 ABOVE: The start of Kidsfirst Hokitika's trikeathon

For over a hundred years, children have been joyously riding trikes at our kindergartens.
SOME OF OUR STORIES.

Photos from decades past show a raft of happy faces on children riding all manner of tricycles and other wheeled devices. Over the years there have been carts and scooters - and even a skateboard or two.

Of course, the opportunity was ripe to turn this love for a set of wheels into a fundraising event - and the 'trikeathon' or 'wheelathon' was born. Without these events, many a kindergarten in our past would have fallen on tough times.

Today, they're still great fun for the community and a big hit with the children - plus a great way to get some extra money for the kindy. While previous generations of children may have triked their way to kindergarten without any adult supervision, those days seem long gone.

ABOVE: Kidsfirst Ilam's trikeathon

Many of our teachers recall independent four year olds turning up and parking their trikes at the kindy gate in years past, or parents turning up to collect their child only to find the 'little one' had already ridden home on their own.

"Now they're in four wheel drives a lot of the time," laughs Kidsfirst Cashmere's Head Teacher Sandy Laffey.

But no matter how much things have changed, the happiness that comes from a steady trike and somewhere to ride it, retains a seemingly constant appeal.

QUICK READ

Trikeathons really are just 'As Kiwi As Kindy'.

The tradition continues today at many of our Kidsfirst locations and seems as popular as ever - with everyone concerned.
KIDSFIRST KINDERGARTENS ARE A NOT FOR PROFIT ASSOCIATION THAT HAS DEVELOPED AND MAINTAINED KINDERGARTENS IN CHRISTCHURCH, CANTERBURY AND ON THE WEST COAST FOR OVER 100 YEARS - AS THE PLACE LOCAL KIDS COME TO LEARN, PLAY AND HAVE FUN.