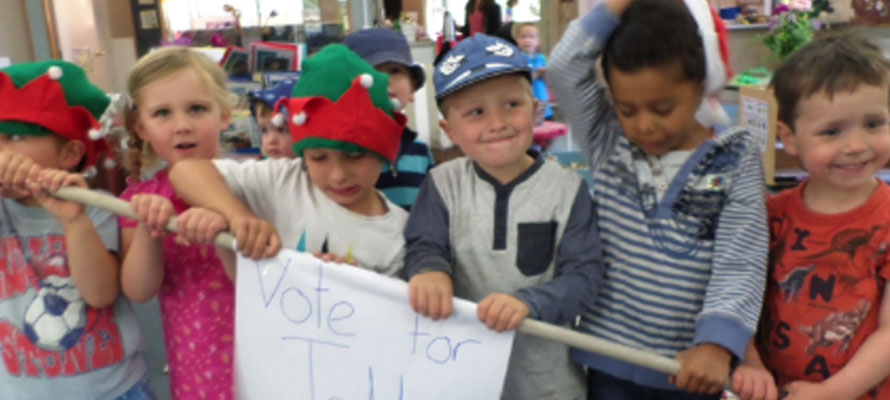 | | | |
| --- | --- | --- |
| | | It was a battle of the paper mâché projects – Team Teddy Bear vs Team Glow Worm Cave - for the kindergarten vote... |
OUR TOP STORIES

At Kidsfirst Frankton there was a lot of laughter and friendly banter between teachers and children as voting got underway for the kindergarten's favourite paper mâché project – one created by Team Teddy Bear and the other an invention of Team Glow Worm Cave.

When Hollie mentioned to Kaiako, Sally Ibbotson that she would like to replicate the paper mâché bear in the kindergarten's sewing room, it was never expected to cause a kindy-wide competition and vote!

"The kindergarten had a real spirit about it during this friendly competition," says Sally. "Teachers and parents were heavily involved too and it became very secretive between the teams - we weren't allowed to look at what the others were up to!"

Team Teddy Bear were in the early stages of developing the teddy – experimenting with balloons to create shape – when Kaiako Alice Gallaway and her glow worm cave construction team, began lighthearted banter about whose paper mâché project would come out best.

The tamariki picked up on the banter between their teachers and the good-natured competition was all on, with a date set for voting day.

Team Teddy Bear struggled at the outset, having started later than the already-established Team Glow Worm Cave, and encountered some teddy-shaping issues.

The confident Team Glow Worm Cave joked that the teddy looked like a pig, and played a few cheeky pranks, oinking and delivering a pig-in-a-box to Team Teddy Bear.

But Team Teddy Bear was not discouraged. Instead, they worked harder to prove the others wrong.

Using recycled materials - two yoghurt pottles, a plastic wrap roll, lots of sellotape, plus perseverance and care from the children, the teddy's shape was perfected. Hollie's mum and the whole community of supportive tamariki helped with painting, prompting Hollie to exclaim "Wow! It's starting to look like a teddy again!"

When voting day arrived, "Vote for Teddy" banners were displayed and chants concocted, bringing much fun to the kindergarten. Everyone had the chance to view the two displays and cast their vote.

"The children learnt a lot of skills through the voting process - they wrote on the banners, drew pictures, and counted the votes (teachers were ordered away so they couldn't sway the vote!)," says Sally.

In the end, team work, fair play and hardcore campaigning paid off, as Team Teddy Bear took out the winning vote for 'best looking design.' Team Glow Worm were also winners, earning the 'most creative design' title.

Congratulations to both teams!

QUICK READ

Creating paper mâché designs turned into a lighthearted competition between two teams of children and teachers, resulting in a kindergarten-wide vote. Who would win teddy bear or glow worm cave?
KIDSFIRST KINDERGARTENS ARE A NOT FOR PROFIT ASSOCIATION THAT HAS DEVELOPED AND MAINTAINED KINDERGARTENS IN CHRISTCHURCH, CANTERBURY AND ON THE WEST COAST FOR OVER 100 YEARS - AS THE PLACE LOCAL KIDS COME TO LEARN, PLAY AND HAVE FUN.