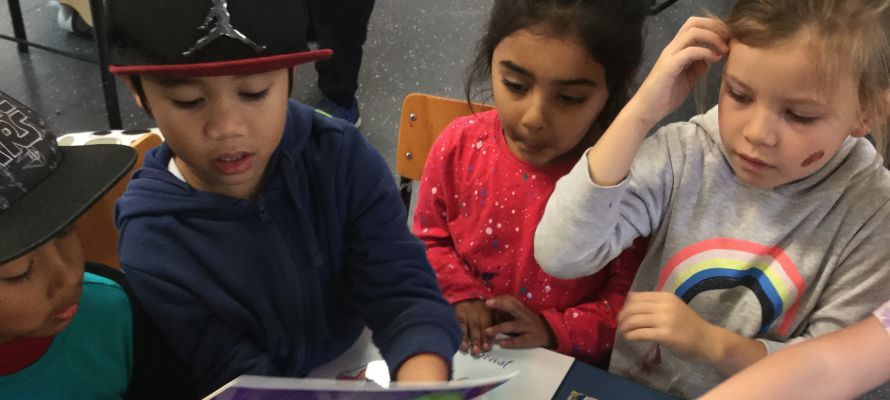 A book for keeps.
Many a wonderful moment is shared with a beautiful book at kindergarten. Either enjoying a story together as a group at mat time, or poring over pages and pictures quietly on your own. Time spent with a book is time well spent.

FIND OUT WHY WE'RE JUST BETTER BECAUSE...

Proud to 'inspire a love of books in children so they become adults who inspire a love of reading' is the The Alan Duff Charitable Foundation.

Many of our kindergartens and centres are a part of this fantastic initiative - better known as Duffy Books in Homes - that provides free books for so many New Zealand children, to take home and enjoy.

"We love being a part of Duffy books in homes," says Kidsfirst Hornby Head Teacher, Bernadette Dawson. "And have had really positive feedback from our whānau and tamariki who love receiving the books to take home and keep."

Children are really engaged. They choose the book themselves, talking with teachers and friends about what they are interested in and what the stories are about.

One child recently commented, "I have read my book 5 times, plus 5 times, plus 5 times, plus 5 times and that equals 20 times!"

Mum and Dads also value the books, saying they make great new options for bedtime reading at night.

A Duffy book distribution often takes learning in a brand new direction with tamariki inspired with dramatic play, conversations about book characters and oral storytelling - all fantastic language rich experiences.

.

Kidsfirst Kindergartens
Head Office, 43 Birmingham Drive, Middleton, Christchurch 8024
+64 3 338 1303 email: questions@kidsfirst.org.nz
Postal Details: Kidsfirst Kindergartens, PO Box 8089, Christchurch 8440
KIDSFIRST KINDERGARTENS ARE A NOT FOR PROFIT ASSOCIATION WITH OVER 70 KINDERGARTENS AND EARLY LEARNING CENTRES COVERING CHRISTCHURCH, CANTERBURY, CENTRAL OTAGO, BANKS PENINSULA AND THE WEST COAST - AND HAS DONE SO FOR OVER 100 YEARS
- AS THE PLACE LOCAL KIDS COME TO LEARN, PLAY AND HAVE FUN.