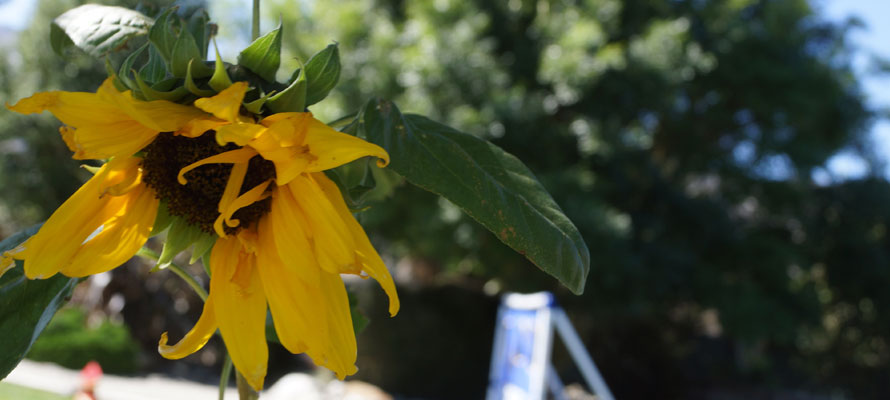 | | | |
| --- | --- | --- |
| | | Observing and finger painting sunflowers leads to further discoveries at Kidsfirst Hawea... |
OUR TOP STORIES

NEWS FROM AROUND

CENTRAL OTAGO

One bright, breezy day at Kidsfirst Hawea, the sunflowers growing in the garden were in full bloom soaking up the sun.

Appreciating the detail of these majestic plants, the children and teachers thought it a wonderful idea to get messy with some observational finger painting!

Young Picasso's had the opportunity to express how they saw the sunflower using coloured finger paint, black paper, their hands and imagination.

Some opted for a realistic approach, carefully splodging the yellow petals with their thumbs, while others mixed up the colours or chose a smudgier, more abstract look.

Observations can turn into learning opportunities. Have you ever noticed that sunflowers often tilt to face the sun? How do these remarkable flowers do this?

After some online research, we discovered that sunflowers and their leaves face the sun in order to grow through photosynthesis. Young flowers are yellow in the middle and need lots of sunlight to grow. As the flowers mature, they develop brown seeds in the centre. With the weight of their seeds, the sunflower droops and no longer follows the sun.

We see the role of kindergarten as a way of opening children's eyes to the world around them, exposing them to new experiences which help them make connections and expand their developing minds.

The Hawea outdoor area offers no shortage of inspiration for the children. It boasts views of the natural New Zealand landscape spanning from its own native plant garden out to the surrounding mountains. A great place from which the children can dream and grow their own perspective; from their view of a sunflower, to their view of the world.

QUICK READ

Why do sunflowers follow the sun? The children at Kidsfirst Hawea observe and finger paint these majestic flowers.
KIDSFIRST KINDERGARTENS ARE A NOT FOR PROFIT ASSOCIATION THAT HAS DEVELOPED AND MAINTAINED KINDERGARTENS IN CHRISTCHURCH, CANTERBURY AND ON THE WEST COAST FOR OVER 100 YEARS - AS THE PLACE LOCAL KIDS COME TO LEARN, PLAY AND HAVE FUN.