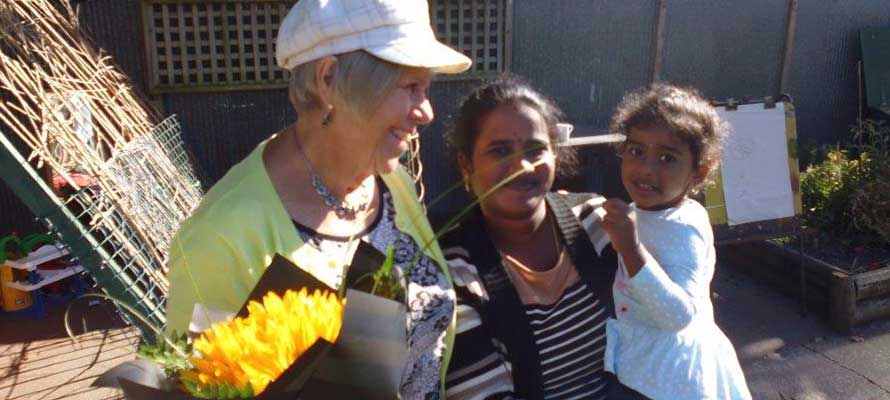 | | | |
| --- | --- | --- |
| | | Kidsfirst Mairehau kindergarten Kaiko, tamariki, whānau and community say it with flowers to farewell Teacher, Sue White on her retirement... |
OUR TOP STORIES

NEWS FROM AROUND

CENTRAL OTAGO

It was heartfelt tributes and golden yellow flowers for Teacher, Sue White at her retirement farewell from Kidsfirst Mairehau kindergarten.

She has retired after an amazing forty years as a kindergarten teacher - with the last three years at Kidsfirst Mairehau and prior to this, a stellar twenty years teaching at Kidsfirst Rutland Street.

Outdoors under a beautiful, autumn sun the Kidsfirst Mairehau Kindergarten community gathered to celebrate Sue. The tamariki settled in to share kai as the speeches began. Whānau and teachers had nothing but the warmest of words to say..

Head Teacher, Raelene Forde says, "During her time here Sue has developed wonderful relationships with our whānau who have appreciated the way she has nurtured their tamariki and helped them to settle so well into kindergarten."

"Sue's ability to 'enable' tamariki to represent their ideas through creative arts is a true gift. Thanks to her our tamariki and whānau always take great pride in seeing their work displayed on our Kindergarten walls."

"Sue has been a pleasure to watch and I hope that I have learned from her," adds Raelene. "She will definitely be missed."

Sue gave a short touching speech in return and presented a parting gift to tamariki. Encircled in colourful, painted paper and topped with a pink bow it was a wonderful spiral garden trellis to grow beans or climbing plants in the kindergarten garden.

After the excitement of un-wrapping the gift died down it was ESM Robyn Penman's turn to sing Sue's praises and give a gift on behalf of Kidsfirst Kindergartens.

We wish Sue and her husband Lyn, all the very best for a relaxed and happy retirement together, as they continue their adventures, create new memories, visit family and their grandchild and look forward to the arrival of future grandchildren.

Ka kite ano Sue - we hope to see you again soon.

QUICK READ

It was a sad and special day as the Kidsfirst Mairehau community gave a fond farewell to Teacher Sue White on her retirement.
KIDSFIRST KINDERGARTENS ARE A NOT FOR PROFIT ASSOCIATION THAT HAS DEVELOPED AND MAINTAINED KINDERGARTENS IN CHRISTCHURCH, CANTERBURY AND ON THE WEST COAST FOR OVER 100 YEARS - AS THE PLACE LOCAL KIDS COME TO LEARN, PLAY AND HAVE FUN.