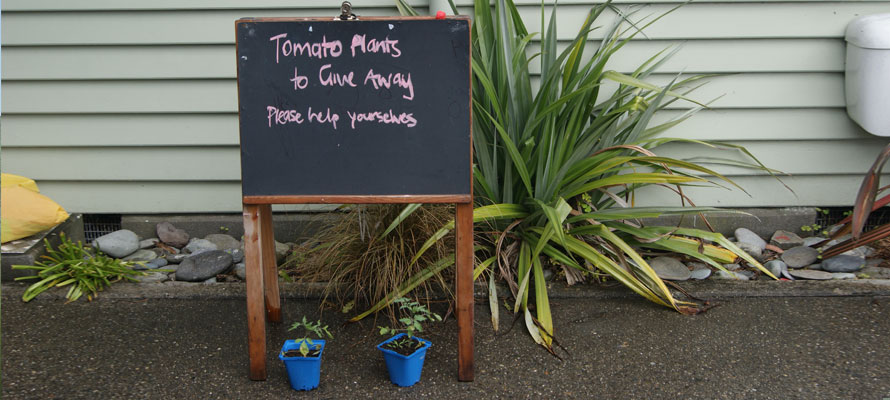 | | | |
| --- | --- | --- |
| | | When there is extra, Kidsfirst Kindergartens don't like to waste what they've got. So have a look at how they are sharing the love (and their produce) amongst their own communities... |
SOME OF OUR STORIES

When we've got more than enough to go around, Kidsfirst Kindergartens are the first to pop up produce tables, write out signs and bag up vegetables for their friends and whānau.

This is because they believe in the gift of sharing and of spreading around the resources they have been given.

Kidsfirst Opawa St Martins are really aware of how beneficial their vegetable garden is to the community – when parents walk in, there could be broccoli, cabbage, cauliflower, or celery to choose from.

At the Kidsfirst Ilam annual trikeathon and barbeque, they used vegetables they had grown from the garden in their coleslaw, much to the delight of the parents. They grow almost enough to stock a vegetable shop - silverbeet, peas, beans, brussel sprouts, tomatoes, pumpkins, celery, peppers, cauliflower, and corn!

Any extras that can't be used during the day are also placed on their produce-sharing table that parents or caregivers can take home.

Kidsfirst Hokitika are lucky to have a team of parents who oversee the garden, to make sure it is as successful as it can be. They have a greenhouse that holds pumpkins, tomatoes, celery, broccoli, garlic, cherry tomatoes and lettuce, as well as an orchard with feijoas, gooseberries and lemons - all of which are regularly sent home with the children who attend the kindergarten.

In the past, as Christmas presents for each child and their family, the teaching team from Kidsfirst Hokitika have put together buckets of seedlings for everyone to plant - what a great sustainable gift!

Kidsfirst Sumner has had a great season of learning with their apple tree, and have been able to share the apples in many different ways: families collected the excess of apples to cook with at home, to take to the horses in the paddock at the back of the Sumner Valley to munch on, or to put in their own compost bins and worm farm to feed the animals that helped the apples grow in the first place!

At Kidsfirst Phillipstown, they put all sorts of things on their produce table in bowls and plastic bags: feijoas, parsley, silverbeet, rhubarb, garlic, apples, leeks, strawberries, potatoes, celery and tomatoes have all made an appearance there.

They help to keep the harvesting sustainable by giving away whole strawberry plants and little bags of carrot seeds, so that the children can keep their learning going at home.

Sharing with others who've got less than you is a great skill to teach at kindergarten. We're so proud our tamariki are learning through giving food away on the sharing tables.

QUICK READ

Whether it's taking home a tomato plant, a bag of apples or other produce, some seeds to plant, or just some great ideas, kindergarten has always been about sharing...

Learning OUtcomes

Cultivating and nurturing a garden is a great way for families to learn what is happening at kindergarten, to generate interest and to invite them to participate. It enables the children to learn about healthy eating, and to try different foods they may not have as readily at home.

Children and teachers need to plan the garden in order so that the vegetables will grow with the right nutrients, at the right time of year.

They can take pride in the process of getting the garden together and nurturing it until it bears fruit (or veggies!). They also spend a lot of time outdoors, learning about the sun and the rain and how this affects the garden, and how they can help it to grow better.

By inviting the children to give away what they have grown and harvested, they are learning about the generosity of giving and the spirit of reciprocity, as parents often come back and return the favour.
KIDSFIRST KINDERGARTENS ARE A NOT FOR PROFIT ASSOCIATION THAT HAS DEVELOPED AND MAINTAINED KINDERGARTENS IN CHRISTCHURCH, CANTERBURY AND ON THE WEST COAST FOR OVER 100 YEARS - AS THE PLACE LOCAL KIDS COME TO LEARN, PLAY AND HAVE FUN.