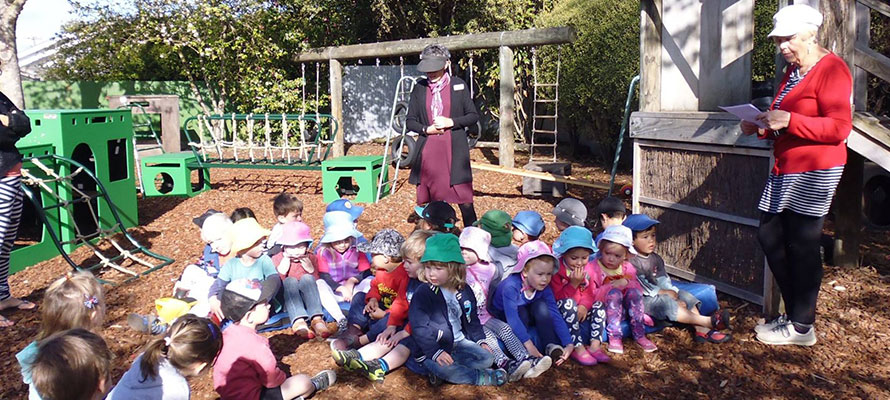 | | | |
| --- | --- | --- |
| | | Our Kidsfirst kindergartens and early learning centres shook it out for earthquake preparedness. |
OUR TOP STORIES:

As Cantabrians we may feel we already know what to do in an earthquake but as Kidsfirst Lady May's Head teacher Stephanie Olliver says, "While the Canterbury earthquakes are fresh (and for some still raw) in our minds, they happened before many of our younger children were born and some of our families who have recently moved to Christchurch have never experienced a shake."

During the ShakeOut on October 15th the children at Kidsfirst Lady May practiced keeping earthquake safe with their jack in the box song, dropping down 'into a box' or into their 'turtles.'

They practiced the ShakeOut in Kidsfirst Hokitika too – with the children being turtles and then making their way to the emergency assembly point. Head Teacher Ceridwyn Dimmick also showed the children what is in their Emergency wheelie bin. Very prepared!

Meanwhile "Three peeps on the whistle," indicated the start of the Kidsfirst Head Office ShakeOut, says Chandra Parkinson at Kidsfirst Birmingham Drive. "The ESM's were doing the ShakeOut at various kindergartens, but the team who was present ducked under desks or stood in doorways – even a visitor in a meeting in the Blue room dived under the table."

Here's a selection of our photos of 'turtles,' 'drop, cover, hold' positions and emergency evacuations from all over the network.

QUICK READ

Safety is paramount at Kidsfirst, so getting involved in the New Zealand ShakeOut was a great opportunity for tamariki, teachers and whānau to practice the drill.
KIDSFIRST KINDERGARTENS ARE A NOT FOR PROFIT ASSOCIATION THAT HAS DEVELOPED AND MAINTAINED KINDERGARTENS IN CHRISTCHURCH, CANTERBURY AND ON THE WEST COAST FOR OVER 100 YEARS - AS THE PLACE LOCAL KIDS COME TO LEARN, PLAY AND HAVE FUN.