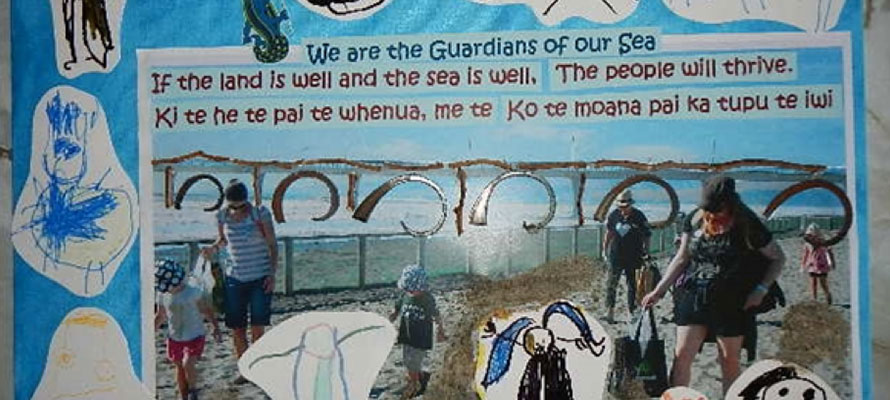 | | | |
| --- | --- | --- |
| | | It's hues of blue at Kidsfirst Nuffield, Beckenham, King Street, Mt Pleasant, Shirley and Lincoln - who all entered an Art Competition as part of Seaweek. |
OUR TOP STORIES

Six of our kindergartens, Kidsfirst Nuffield, Kidsfirst Beckenham, Kidsfirst King Street, Kidsfirst Mt Pleasant, Kidsfirst Shirley and Kidsfirst Lincoln all entered an Art Competition as part of Seaweek.

Seaweek is New Zealand's annual, national week about the sea, to help raise awareness of the connection between people, local communities and our oceans.

Early childhood centres were invited to a create a piece of art picturing their relationship with the ocean, either using collage, drawing or painting.

For the Canterbury region, Seaweek culminates with the Estuary Festival, held at McCormacks Bay Reserve. It's a fun family day out with rides, games and activities to celebrate the estuary and local coastal communities.

And it's where the winners of the Art Competition were announced…

Kidsfirst King Street entered four artworks and three made it to the final. We are delighted to announce that Ella Botherway won an award in her age group!

Four-year old Alexis Lomax-Hughes from Kidsfirst Lincoln went along to the Estuary Festival and was so pleased to receive a runner-up award for her art work titled 'Alexis listening to a shell on the beach.' A turn on the bouncy castle topped a great day!

Kidsfirst Mount Pleasant was also there and proud to have their artwork shortlisted in the finals. On the day of the Estuary Festival, they also had a stand and created a shop.

Children sold bags of colourful play-dough that had been made at the kindergarten and parents sold cakes! They raised $557.00, to purchase new resources for the kindergarten.

The artwork is now in their play-room and children use it for a drama-prop to create stories about mermaids and sea creatures.

"We also use it outside on the deck on warm days as a backdrop – along with a sea-mat, to display our huge selection of shells, fossils and other science resources…it's a real hands-on place for exploration," says Head Teacher, Angie Dalley.

For Kidsfirst Nuffield, the art event had tied in perfectly with their beloved local New Brighton beach and the teaching teams recent review aim - to create more unique art experiences for all learners in our kindergarten.

"We were so proud when one of our children, Mitchell May, received a special mention certificate for his picture," says Teacher, Rachel Ryan.

Kidsfirst Shirley was proud to be shortlisted for their creation.

"We used a photo from one of our outings to the beach last year and the children enhanced the photo with the addition of collage style drawings," says Head Teacher, Janette Bowen.

The artwork included the words Ki te he te pai te whenua, me, ke Ko te moana pai ka tupu te iwi - We are the guardians of our sea. If the land is well the sea is well. The people will thrive.

Kidsfirst Beckenham created two large collages, called Awhi ki te Moana, made over a two-week period with work from nearly every child.

"We included screenprinting, monoprinting, vivid and dye, water colours, painting, fingerpainting, drawing, and collage with natural materials," says Teacher, Helen Peters.

They were so excited to have both works shortlisted and displayed at the Estuary Festival.

"It was a thrill to receive the runner-up award for the large box collage," says Helen.

QUICK READ

Kidsfirst Nuffield, Lincoln, King Street, Shirley and Beckenham entered their beautiful ocean-inspired creations in an art competition as part of Seaweek - with some wonderful results.
KIDSFIRST KINDERGARTENS ARE A NOT FOR PROFIT ASSOCIATION THAT HAS DEVELOPED AND MAINTAINED KINDERGARTENS IN CHRISTCHURCH, CANTERBURY AND ON THE WEST COAST FOR OVER 100 YEARS - AS THE PLACE LOCAL KIDS COME TO LEARN, PLAY AND HAVE FUN.