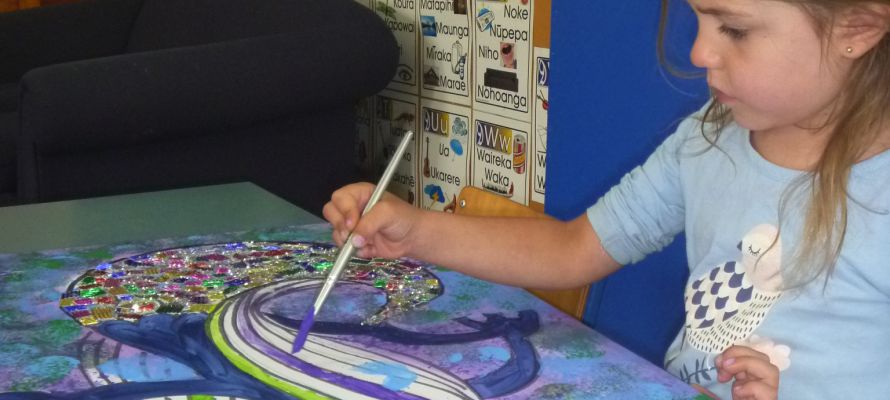 Kaitiakitanga/Sustainability is key at kindergarten.
We love to do our bit to help keep our environment a clean, healthy place for today and for future generations. And there are so many opportunities to learn about sustainability at kindergarten.

FIND OUT WHY WE'RE JUST BETTER BECAUSE...

Seaweek/Kaupapa Moana (run by The New Zealand Association for Environmental Education) is a celebration of the sea, to help raise awareness of the connection between people, local communities and our oceans.

The theme was, Toiora te Moana – Toiora te Tāngata, Healthy seas, Healthy people.

As in previous years, the summer event invited early childhood centres to a create a piece of art to show their relationship with the sea, either using collage, drawing or painting.

Tamariki at Kidsfirst Nuffield have a beautiful stretch of New Brighton beach at their doorstep, inspiring the creation of a handsome Tangaroa (Maori mythological god of the sea) for their Seaweek art competition entry.

Tamariki create a beautiful art piece of Tangaroa, the Māori mythological God of the sea.

"We began the process with discussions around our responsibility for keeping our sea clean and healthy," says Teacher, Rachel Ryan "For nga tamariki this resonates very deeply with our placed based understanding around our responsibility for the sea in our immediate environment."

"Our collective responsibility preserves our sea for future generations and makes us Kaitiakitanga, with clear purpose and a deeper understanding of who we are in this place we call our home."

Created on canvas, Kidsfirst Nuffield's glorious Tangaroa shines with a myriad of colour for the tail with careful colouring-in between the lines of his hair and body.

"This detailing was time consuming and took place over several days with many opportunities for nga tamariki to revisit and continue their collaborative work. Nga tamarki's words around conservation and protection were added to complete the picture."

What a magnificent looking Tangaroa!

.

Kidsfirst Kindergartens
Head Office, 43 Birmingham Drive, Middleton, Christchurch 8024
+64 3 338 1303email: questions@kidsfirst.org.nz
Postal Details: Kidsfirst Kindergartens, PO Box 8089, Christchurch 8440
KIDSFIRST KINDERGARTENS ARE A NOT FOR PROFIT ASSOCIATION WITH OVER 70 KINDERGARTENS AND EARLY LEARNING CENTRES COVERING CHRISTCHURCH, CANTERBURY, CENTRAL OTAGO, BANKS PENINSULA AND THE WEST COAST - AND HAS DONE SO FOR OVER 100 YEARS
- AS THE PLACE LOCAL KIDS COME TO LEARN, PLAY AND HAVE FUN.