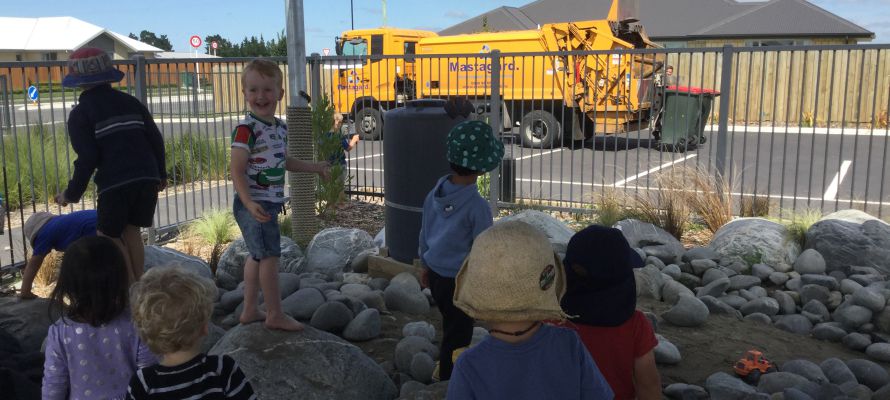 Always something new to see at kindergarten.
Our fantastic teaching teams are quick to turn children's new interests into new learning opportunities. Sometimes it could be something as simple as the weekly visit from the rubbish truck that captures everyone's attention.

FIND OUT WHY WE'RE JUST BETTER BECAUSE...

At Kidsfirst West Rolleston, Friday is their favourite day of the week, and not just because it's nearly the weekend!

It's the day the rubbish truck swings by the neighbourhood and the whole business is of HUGE interest to tamariki.

"We have been half way through a morning mat time when (without warning) a rubbish truck rolls past," says Head Teacher, Victoria Rodger. "As soon as they hear one, the children yell with excitement 'rubbish truck' and race out to see it."

"It's great so many children share this interest together and can connect to our community in his way," says Victoria. "It encourages so much communication and, of course, loads of excitement."

A local rubbish truck makes a special visit to Kidsfirst West Rolleston kindergarten.

A parent suggested that perhaps a special rubbish truck trip to kindergarten could be arranged, given the children's enthusiasm. Luckily, Waste Management got onboard and very kindly delayed their pick up time until all the children had arrived.

The driver carefully backed into the kindergarten carpark and swung into action as the children watched from the playground.

"The children noticed it was a different truck to the council ones and that this truck could empty TWO bins at once!" says Victoria.

.

Kidsfirst Kindergartens
Head Office, 43 Birmingham Drive, Middleton, Christchurch 8024
+64 3 338 1303 email: questions@kidsfirst.org.nz
Postal Details: Kidsfirst Kindergartens, PO Box 8089, Christchurch 8440
KIDSFIRST KINDERGARTENS ARE A NOT FOR PROFIT ASSOCIATION WITH OVER 70 KINDERGARTENS AND EARLY LEARNING CENTRES COVERING CHRISTCHURCH, CANTERBURY, CENTRAL OTAGO, BANKS PENINSULA AND THE WEST COAST - AND HAS DONE SO FOR OVER 100 YEARS
- AS THE PLACE LOCAL KIDS COME TO LEARN, PLAY AND HAVE FUN.