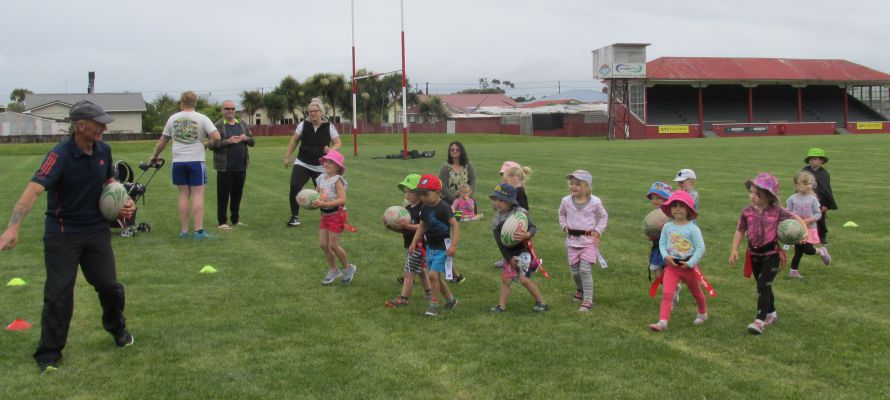 | | | |
| --- | --- | --- |
| | Kidsfirst Greymouth children's interest in rippa rugby has extended well into the summer season and the teachers are running with it... | |
SOME OF OUR TOP STORIES

"That's the way the best learning happens at this age," says Kidsfirst Greymouth Head Teacher, Tracy Jennings. "If something continues to hold our children's attention – we stay with it."

The kindergarten was already set up with the tags and belts required for a good game of rippa rugby and Tracy had been playing coach. But they recently took their passion to the next level, with a helping hand from Sports West Coast, Rugby Development Officer, Robbie Maitland.

"We organized a walk to our local field at Greymouth's Rugby Park for a sports morning in collaboration with the school," says Tracy.

Robbie shared his expertise with the children teaching drills and ball handling skills and explained the rules of the game to his keen rippa rugby teams.

A comment from Robbie that they were, "the best bunch of kids and very polite," made us very proud said Tracy. "It's so great our tamariki fly the flag of our fantastic Kidsfirst values when they are out and about in our community."

This activity was also part of working towards their healthy heart award.

"The children had an amazing time and a great run around on the large field," says Tracy. "We also tried a variation of an egg and spoon race using golf balls balanced on recycled milk bottle tops."

The mornings activities were so popular with tamariki that they are looking to visit the stadium every month for a big, spacious play and to practice their rippa rugby. In exchange the children can collect any rubbish they find there.

We may well have some budding All Blacks and Black Ferns here.

Kidsfirst Kindergartens
Head Office, 43 Birmingham Drive, Middleton, Christchurch 8024
+64 3 338 1303email: questions@kidsfirst.org.nz
Postal Details: Kidsfirst Kindergartens, PO Box 8089, Christchurch 8440
KIDSFIRST KINDERGARTENS ARE A NOT FOR PROFIT ASSOCIATION WITH OVER 70 KINDERGARTENS AND EARLY LEARNING CENTRES COVERING CHRISTCHURCH, CANTERBURY, CENTRAL OTAGO, BANKS PENINSULA AND THE WEST COAST - AND HAS DONE SO FOR OVER 100 YEARS
- AS THE PLACE LOCAL KIDS COME TO LEARN, PLAY AND HAVE FUN.