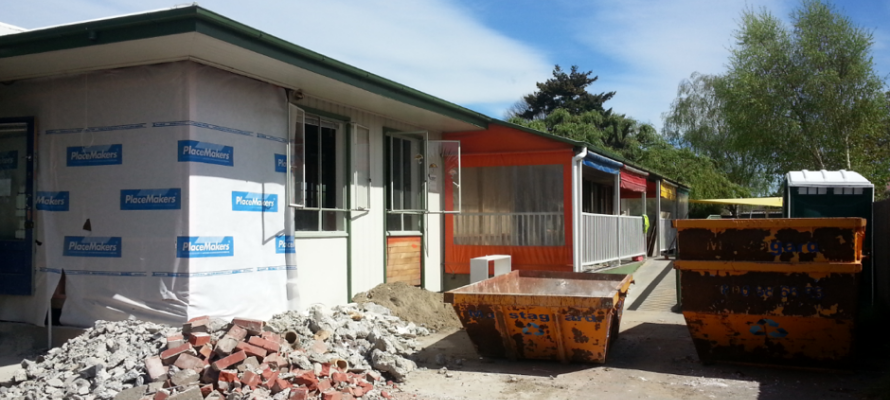 | | | |
| --- | --- | --- |
| | | While making a change is often not an easy time, Kidsfirst Wigram children and teachers are taking this transition in their stride, while renovations are in progress at their kindergarten… |
OUR TOP STORIES

During Term Four, Kidsfirst Wigram teachers Cindy Dean, Anne Wilson and Zoe McFadden, along with a group of children each, are being hosted across neighbouring Kidsfirst's Hornby, Hei Hei and Broomfield kindergartens.

Currently hosted at Kidsfirst Hei Hei, Teacher Cindy says, "we have been welcomed with open arms, with children imediately happy, busy and involved in their new environment - they've settled in really well."

Kidsfirst Hei Hei Head Teacher, Lorraine Stewart agrees the transition is going really well, "it's so lovely to have such an experienced teacher like Cindy join us for this time to bring in different ideas and a great a chance for children to create new friendships as well."

Over at Kidsfirst Broomfield, Teacher Zoe has the same sentiment, "the teaching team made it a very smooth transition process for us, and the different environment is providing lots of fantastic new learning opportunities for the children."

Based at Kidsfirst Hornby with her group of children, Teacher Anne Wilson is delighted by the warm, new community connections, "it's a great opportunity for different families to interact and the children have quickly developed wonderfully responsive, reciprocal relationships with each other."

"My group of children also loved the chance to join Kidsfirst Hornby on their visit to Arion Farmpark where they saw lots of spring baby animals and, excitingly, a lamb being born!"

The strengthening and renovation project for Kidsfirst Wigram is a big one and well underway, with the majority of the demolition and clearing done.

On completion every room will be a fresh, new space with an entire remodelling of the interior that includes; a new office space, kitchen, bathrooms, entry, resource/art spaces, and renovated activity spaces. Most windows and doors will be replaced with new heating, lighting and acoustic tiles.

The removal of the brick wall at the front of the kindergarten has already opened up the site to the community – exactly the effect hoped for in the planning.

The project is on track to be ready for the start of Term One of next year.

Cindy is looking to arrange a Kidsfirst Wigram whānau get together for fish'n'chips at the local park, "so everyone can have a catch up in the mean time."

Host kindergartens have made Kidsfirst Wigram feel very welcome while strengthening and renovations take place at the kindergarten.
KIDSFIRST KINDERGARTENS ARE A NOT FOR PROFIT ASSOCIATION THAT HAS DEVELOPED AND MAINTAINED KINDERGARTENS IN CHRISTCHURCH, CANTERBURY AND ON THE WEST COAST FOR OVER 100 YEARS - AS THE PLACE LOCAL KIDS COME TO LEARN, PLAY AND HAVE FUN.