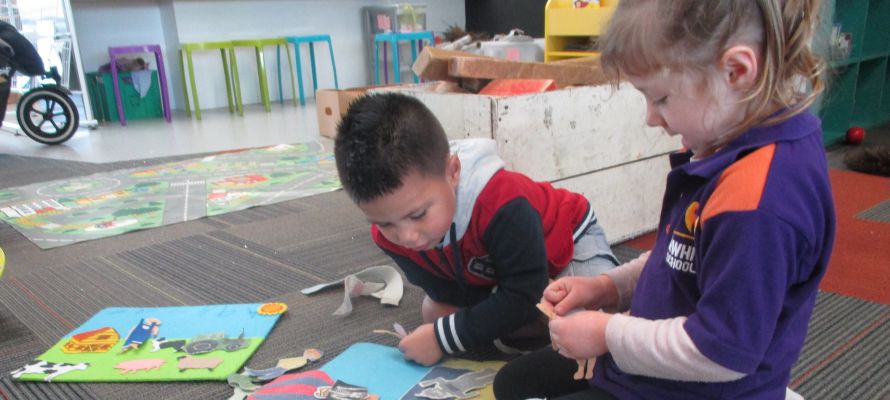 | | | |
| --- | --- | --- |
| | | Kidsfirst Nuffield were recently invited to visit Rāwhiti school - a fantastic way to build those special connections between kindergarten children and their local school community... |
OUR TOP STORIES

In the Christchurch suburb of Brighton, Rāwhiti School is the merger of three primary schools - Central New Brighton, Freeville, and North New Brighton - as a result of the Canterbury earthquakes.

"We were invited by New Entrant Teacher, Kylie O'Keef, to spend some time in the schools wonderful, contemporary, new learning environment," says Kidsfirst Nuffield Teacher, Rachel Ryan.

Rāwhiti School has been developed and built with modern learning in mind - vibrant, open, well-connected, innovative spaces that encourage and support many different types of learning, with a strong and thriving bi-lingual unit, reflecting its very culturally diverse community.

The theme for this term at Rāwhiti is 'learning through play,' so the kindergarten children were free to immerse themselves in each different, interactive space and could choose to work in the main large hub or smaller rooms off to the sides.

Children enjoyed experiencing spaces that feature floor to ceiling white boards, with colourful learning resources lining the walls, large TV screens for active learning or dancing, bright cubes for sitting or dress-ups to fling on.

Tamariki made the most of the spacious areas to spread learning activities out over the floor or headed to the ajoining spaces outside equipped for energetic activities and bean bag fun!

"It was a really great opportunity for children to make connections with their peers and to develop our shared principles of Whanaungatanga (relationships, connection)," says Rachel.

"We also felt so much Manaakitanga (respect, caring for others) reflected in the wonderful welcome from Kylie and the tamariki at Rāwhiti."

"The natural progression for many children when they turn five will be from Kidsfirst Nuffield on to Rāwhiti school, so visits like this are a brilliant way to establish these early community connections."

"And the bus ride was great fun for our kindergarten tamariki too!" adds Rachel.
KIDSFIRST KINDERGARTENS ARE A NOT FOR PROFIT ASSOCIATION THAT HAS DEVELOPED AND MAINTAINED KINDERGARTENS IN CHRISTCHURCH, CANTERBURY AND ON THE WEST COAST FOR OVER 100 YEARS - AS THE PLACE LOCAL KIDS COME TO LEARN, PLAY AND HAVE FUN.