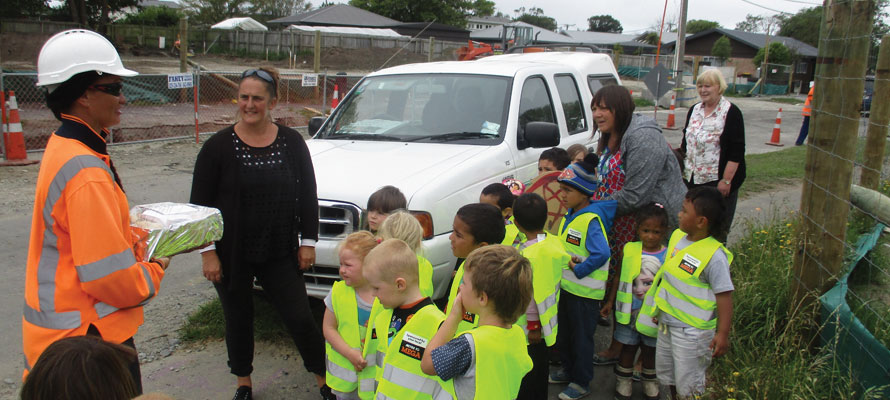 | | | |
| --- | --- | --- |
| | | When Kidsfirst Portsmouth Street got a donation from the local Fletchers crew, they gave back... |
OUR TOP STORIES

What goes around, comes around - and that's particularly true at Kidsfirst Portsmouth St.

Kidsfirst Portsmouth Street welcomed Glen from Fletchers with his leftover goodies.

Head Teacher Bernie Atger explains that, "one day, out of the blue, Glen pulled up in his digger with some circles of wood and asked 'would we like them?'"

"We would absolutely love them."

The children used these new found treasures to make wonderful art.

But, with true community spirit, the kindergarten decided to give something back.

Some of the artwork the children did on the leftover wooden circles.

"We often go walking in our community," says Bernie. "We have hi-vis vests for the children, with Portsmouth Street written on the back of them. So we all walked around the corner and brought some of the beautiful scones that Poe had baked, specifically that morning, with us to give to the workers.

The next day more stuff came, nails, screws…. and they asked if they could take a photo for their magazine showing the beautiful artwork the children did.

"The best part," laughs Bernie, "is these fellas along the road here, standing, looking at us coming around, going 'Hi guys'. Then going back, we said 'Are you part of that Paul Smith Team?' They said no and we said "Oh, that's a shame because we've just taken them hot scones…" and they said "Ok, right then." and off they went. It was just gorgeous."

Poe had baked some scones as a special thank you.

It's part of the community spirit that's at the core of the kindergarten.

"We're out in our community. Because we always like to give back for what we get. And using our fabulous cook, scones are always great - especially for those worker blokes!"

QUICK READ

Kidsfirst Portsmouth Street

returned the favour of a donation of leftover building materials with a gift of scones.
KIDSFIRST KINDERGARTENS ARE A NOT FOR PROFIT ASSOCIATION THAT HAS DEVELOPED AND MAINTAINED KINDERGARTENS IN CHRISTCHURCH, CANTERBURY AND ON THE WEST COAST FOR OVER 100 YEARS - AS THE PLACE LOCAL KIDS COME TO LEARN, PLAY AND HAVE FUN.