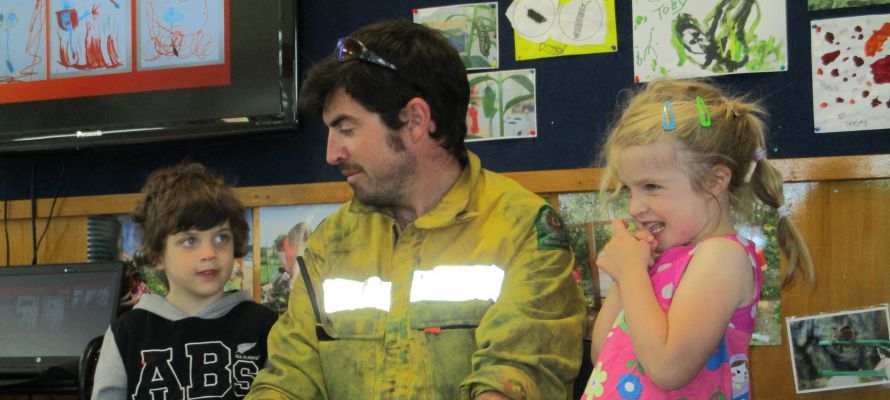 | | | |
| --- | --- | --- |
| | Our parents, extended whānau and local communities give so much to our kindergartens that it's nice when we can give support back too... | |
SOME OF OUR TOP STORIES

Kidsfirst Wales Street kindergarten children, Georgia and Tate were delighted to have their Dad, Ben (a Christchurch City Council Firefighter) stop by, to talk to tamariki about firefighting and answer questions about his job.

Kidsfirst Wales Street children along with tamariki from Kidsfirst Cashmere and many local families had experienced the Canterbury Port Hills fires first-hand - they could see it in the distance, smell it and watched helicopters with monsoon buckets fly past overhead. One kindy family had to be evacuated from their home for five days.

Spending several days on the Port Hills containing hot spots, Ben had presented the hardworking firefighting team with a beautiful card made by the children at Kidsfirst Wales Street kindergarten full of beautiful artwork and thoughtful messages of appreciation.

On the day he visited the kindergarten Ben passed on a very special, big thank you to tamariki from the firefighters for their awesome, arty, sprit-lifting card.

"The card had really inspired the team and was a welcome relief to look at when they came off the hills for a break," says Ben.



Information including that about fees, services and promotional activities were correct at the date of publication of news stories but may since have changed. Please check with us to ensure information is current.