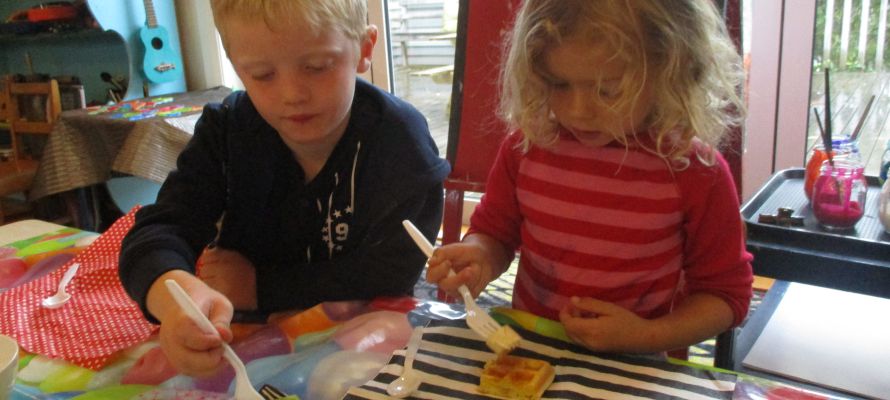 Kidsfirst Mount Pleasant cook up a storm.
Every so often throughout the seasons Mother Nature throws us a curveball and we have to batten down the hatches. What better way to ride out a storm at kindergarten than getting together to cook?

FIND OUT WHY WE'RE JUST BETTER BECAUSE...

For young children experiencing some of life's curly adventures for the first time - like a major weather event - it can seem downright daunting!

With ex-tropical cyclone Gita was forecast to make landfall on the South Island's West Coast before barrelling through the top of the South, many families arrived at kindergarten a little uncertain about how severe the storm would be across our regions.

"We could see that some of our children were needing a little extra reassurance," says Kidsfirst Mount Pleasant Head Teacher, Liza Hewison. "So we decided to make waffles for morning tea."

"We are aware that gathering together as a group to make and share food can help lift people's spirits on days like this," says Liza. "We popped on the heat pumps to stay cosy and cooked up a storm!"

What a delicious way to help calm nerves and warm hearts!

.

Kidsfirst Kindergartens
Head Office, 43 Birmingham Drive, Middleton, Christchurch 8024
+64 3 338 1303 email: questions@kidsfirst.org.nz
Postal Details: Kidsfirst Kindergartens, PO Box 8089, Christchurch 8440
KIDSFIRST KINDERGARTENS ARE A NOT FOR PROFIT ASSOCIATION WITH OVER 70 KINDERGARTENS AND EARLY LEARNING CENTRES COVERING CHRISTCHURCH, CANTERBURY, CENTRAL OTAGO, BANKS PENINSULA AND THE WEST COAST - AND HAS DONE SO FOR OVER 100 YEARS
- AS THE PLACE LOCAL KIDS COME TO LEARN, PLAY AND HAVE FUN.