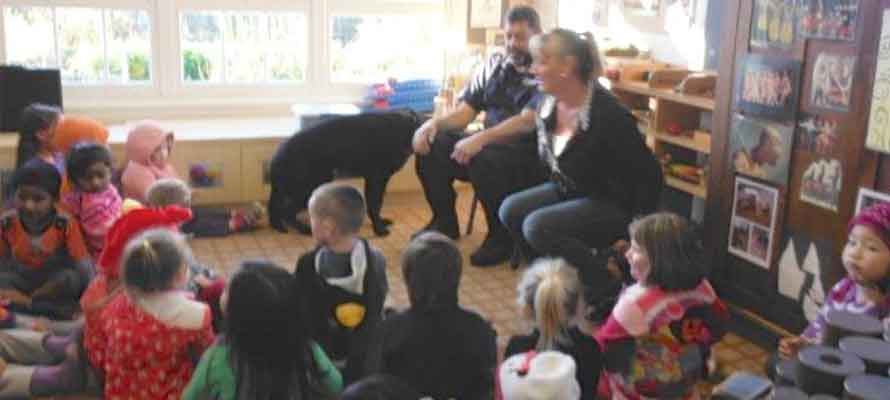 | | | |
| --- | --- | --- |
| | | As a way of strengthening links to their community, Kidsfirst Phillipstown had a police dog come to visit with his owners. |
SOME OF OUR STORIES.

Constable Spike and Constabel Todd came with Chilli to visit the kindergarten. They brought stickers and pictures for the children to colour in, as well as a special police hat for the dressing up box at the kindergarten.

Chilli was given some exercises to do in the kindergarten playground, including finding some hidden money. When she completed the task, she got a 'long chew toy' as a reward to play with.

Teacher Katrina Yearbury said, "it was a new experience for children who don't have pets at home, and Chilli taught the children about the job of policemen in keeping them safe. These sorts of visits are great for connecting different points of our community in Phillipstown."

"The children learned that the police are there to help."

QUICK READ

Kidsfirst Phillipstown had a visit from their local community constables and the police dog, Chilli.
KIDSFIRST KINDERGARTENS ARE A NOT FOR PROFIT ASSOCIATION THAT HAS DEVELOPED AND MAINTAINED KINDERGARTENS IN CHRISTCHURCH, CANTERBURY AND ON THE WEST COAST FOR OVER 100 YEARS - AS THE PLACE LOCAL KIDS COME TO LEARN, PLAY AND HAVE FUN.