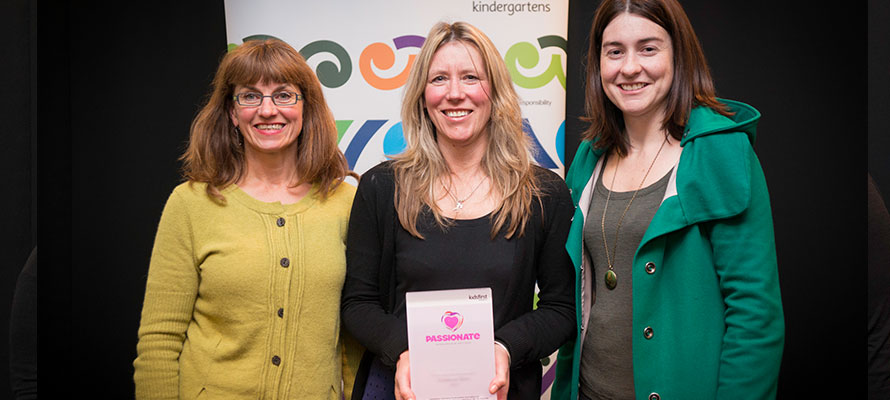 Passionate:

We love what we do, and it shows.
OUR TOP STORIES:

Kidsfirst Kindergartens Ilam won the Passionate Award 2015 for the Kidsfirst At Our Hearts Awards, celebrated at the AGM in May.

The judges said this kindergarten leave you in no doubt that they have a love of learning and want to share it in their teaching. The team have an enthusiasm that is boundless and they share this passion with all the people that come in - whānau, visitors, and short-term relieving teachers. They love the idea of learning, they know it is so important and so worthwhile and they all consider Kidsfirst to be, "the best job they could ever have."

The teachers share their passion in a number of ways through hosting a number of visitors and having a number of short-term teachers filling in, as well as generously releasing their head teachers to support other kindergartens. They love attending Professional Development (PD) opportunities and really enjoyed the workshops they attended at the April Professional Learning Hui. The team at Kidsfirst Ilam also go well beyond the hours required in terms of the extras they attend and want to learn from as they would hate to think they miss out on new ideas or aren't up with the play.

HEAR WHAT ESM DOT CAPON HAS TO SAY....

In this team high energy is an absolute feature - they give 100 percent of themselves every moment of every day. Even at the end of one of 'those sorts of days' you can still see them smiling through it all and saying, "isn't this great, guess what we saw a child do today."

They love sharing their passion for learning. Their desire is to inspire each child to become a life long learner and that is what they live by themselves. The whakataukī (proverb) that you see as you walk into their kindergarten, up on the wall is the challenge that they set for themselves and want to share with the others around them and translates to "Pursue excellence should you stumble let it be to a lofty mountain."

Congratulations to the Passionate team at Kidsfirst Ilam.

Passionate Award winners for 2015, Kidsfirst Ilam, feel that their award is about going the extra mile.

Head Teacher, Susan Szentivanyi explains, "When you are passionate, best outcomes for the children are exceeded and strong relationships with whānau and the wider community are developed. Our passion gives us extra energy and commitment for what we do. For parents, the award has validated the positive learning environment we have here, and it has reinforced our team's sense of excitement about new learning opportunities and keeping our practise current."

The Kidsfirst At Our Heart Awards reflect the core values of Kidsfirst

and what we believe in.

... with people, places, opportunities, ideas and our heritage



... and always striving
to do more

of the difference we make in lives, every day

People are at our heart

We love what we do
and it shows
KIDSFIRST KINDERGARTENS ARE A NOT FOR PROFIT ASSOCIATION THAT HAS DEVELOPED AND MAINTAINED KINDERGARTENS IN CHRISTCHURCH, CANTERBURY AND ON THE WEST COAST FOR OVER 100 YEARS - AS THE PLACE LOCAL KIDS COME TO LEARN, PLAY AND HAVE FUN.