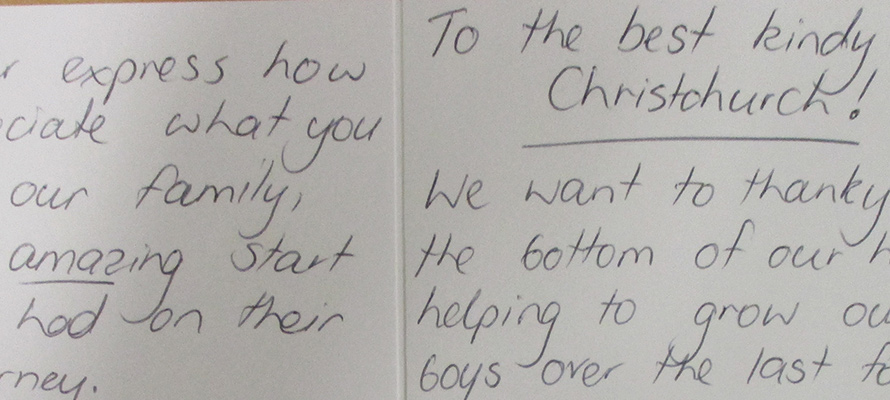 | | | |
| --- | --- | --- |
| | A quality start to a child's education is what our teachers strive for and parents know it. Check out these lovely letters of appreciation from families, hugely appreciative of the fantastic time their children had at kindergarten. | |
SOME OF OUR TOP STORIES

Teachers are often brought to tears with the heart-warming messages of thanks they receive from parents...

Dear Kindy teachers,

"Thank you for all the wonderful support and care you have given my daughter. This kindy is a very special place and she has grown so much in your nurturing, inspiring and challenging environment. You have really helped to prepare her for school."

******

"Thank you so much for the amazing early childhood education our son has had these last three years. He has made so much progress socially and in all facets of his learning. We are extremely grateful he is transitioning to school so well prepared.

He and we will miss you all dearly, and kindergarten will always be a special place to him. Many thanks."

*****

"Thank you! For everything! From the first time I walked into kindy you made me and my children feel at home. It has been our happy place. You have been so much more than just a kindy, you have been the most wonderful support and I will be forever grateful."

*****

"Words cannot express our sincere thanks for all of the care, love and attention you have shown us. He leaves today a bigger, better, brighter little boy in no small part to the role that each of you has played in his development.

We and he feel so lucky to have been a part of this community and are grateful that the kindy has such lovely team of people guiding the future of our children.

We are just so glad our baby boy will eventually come to kindergarten so this is not goodbye so much as a see you soon."

(from a Japanese family)

"I can't thank you enough. I couldn't speak English well, but you were always kind. I learned a lot and I thought the environment was wonderful. I have never seen a kindergarten with so many toys, tools and materials before.

Children's faces were full of expression and I was surprised at their physical capabilities, children can challenge themselves with many things and learn what is safe, I think this is important for their growth."

*****

"Thank you so much for the time and commitment you've given our boys during their pre-school education. I know at times it wasn't easy....you guys are awesome!!"

*****

"We want to thank you from the bottom of our hearts for helping to grow our two wee ones over the last four years. I'm actually crying as I write this! You have all been loving, kind and thoughtful teachers and we want to especially thank you for being such steady, loving support when we often had family health issues and medical visits.

Words will never express how much we appreciate what you have done for our family and what an amazing start our kids have had on their educational journey."

*****

"All four of us will remember our time with you so fondly keep doing what you're doing so well - you're given our kids such a brilliant start in life."

*****

"Thank you for being so warm and believing in me in me and encouraging me. I will alway treasure the way you made me feel the first time we met.

Keep being amazing, This kindy is the happy place it is because of its teachers."

*****

"I don't think I can express in words the gratitude I feel towards you all. My children have learnt so much in your care that will stay with them for life. I believe their fondest memories of childhood will include many of you - I truly hope you are all extremely proud your efforts with our children.

Thank you with much love."

... and a huge thank you back to all those parents for such kind words. It's nice to know that all the effort we put in is appreciated.
Information including that about fees, services and promotional activities were correct at the date of publication of news stories but may since have changed. Please check with us to ensure information is current.