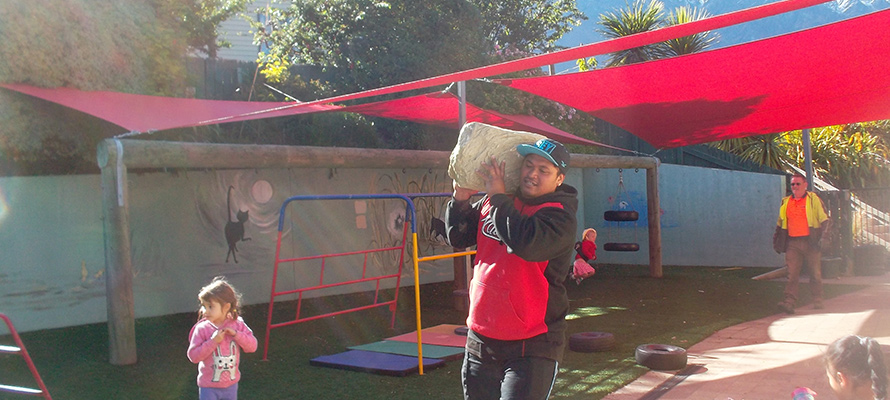 | | | |
| --- | --- | --- |
| | Teachers often talk so positively about the many fantastic ways parents contribute at kindergarten, when they feel they have the space and time to do so... | |
SOME OF OUR TOP STORIES

Parent contributions at kindergarten come in all shapes and sizes and - whether big or small - we greatly appreciate them all.

Thoughtful gestures such as bringing baking for morning tea, pottering in the garden, making teachers (or another parent), a cuppa or writing heart-warming messages in letters and cards to teachers are just some of the many ways parents get on board at kindergarten.

We welcome any parent involvement at kindergarten and very much appreciate (and are so very grateful for) any contribution that parents choose to offer up in the way of their time, items, ideas or support.

Teacher Erin Kelly-Rogers from Kidsfirst South Brighton says, "sometimes parents kindly drop off items they think we could all benefit from, like books or dress ups, or items no longer used at home that may be handy at kindergarten."

Parents are often on the look out for ways to help teachers encourage and reinforce sustainable efforts at kindergarten, such as helping with rubbish collection or bringing in lovely pink, plump worms from their home gardens for the kindergarten worm farm.

On a tour of Kidsfirst Cotswold, Head Teacher, Kathy Harford points out a gumboot repurposed as an outdoor planter, "one of our kindy Grandads has an artificial leg, so he gifted us his other brand new gumboot!"

On introducing each of their chickens Kathy says, "parents bring in food scraps to feed them and we use their eggs to make our morning tea muffins."

"Everyone comes on board when we need it and we love it," says Kidsfirst Frankton Teacher, Sally Ibbotson. "We're setting up a new playground and some amazing Dads have sourced some big, sturdy rocks for us – and even carried them in for us!"

"Incredibly generously, one family supported the kindergarten playground renovation by supplying the decking at cost and auctioned a stay at their holiday home to help raise funds."

"One mum, inspired by the playground revamp plans has offered to help with the garden landscaping surrounding the playground," says Sally. "And empty wooden wine barrels donated from local vineyards make for some fun outdoor climbing additions too."

Kidsfirst Sumner, Teacher Liza Hewison and the teaching team feel so fortunate to have a really strong parent community.

"We have many parents actively involved within our committee and others who help when they can to rally for fundraising, working bees or organising different events."

"They are very responsive to what our kindy may benefit from, gifting anything from books for our library, to extra coffeee mugs for the kitchen - one family ordered us an apple and a pear tree for the garden."

"Our beautiful new painted mural - that transformed a whole room into a beach scene featuring Cave Rock/Tuawera, blue penguins and other bird life - was entirely fundraised by parents."




"Our parents are at the heart of our community and at the heart of our kindergarten," says Kidsfirst Teacher, Pip Gould.

"Many parents are so involved and everyone helps out where they can. We have the local Burnham military camp connection, and over the years soldiers (some who are parents) have helped to build and supply materials for a deck, a wooden bridge and help with our wheelathon. There's a real community connection."

This year the Kidsfirst Burnham teaching team, parents and children were up before dawn to show their support for their local community on ANZAC Day.

"Anzac Day is a very important date on our calendar here at kindergarten," says Teacher, Mark Lewis.

Teachers never expect gifts but they are constantly blown away by the generosity of families. Lovely things like books, games or puzzles, chocolates at Christmas, seeds for the vege patch, flowers, plants or trees for the garden or donations for new kindergarten resources or projects.

"When it comes time for families to move on from Kidsfirst Maniototo, they'll often look for a meaningful gifts or a more permanent contribution like a playground addition or fruit tree for the garden," says Teacher, Theresa Souness.

The teaching team at Kidsfirst Parklands are thankful for a lovely feijoa tree they received as a farewell gift from parents, "It was a great contribution to our sustainable learning programme and children are eating the fruit this year from the tree."

With their youngest of three leaving the kindergarten for school, one family presented Kidsfirst Pitcairn Crescent with a beautiful piece of ceramic pottery in the shape of a Pikorua, as a parting gift.

The message read, "this pikorua is given with much love to the Pitcairn Kindergarten staff and tamariki to say thank you for the wonderful care you took of our tamariki. You have joined our family forever in love, loyalty and friendship and we will definitely all be connected – Arohanui."

"We have had many lovely gifts to say thank you, says Teacher, Lara Lipp at Kidsfirst Hargest Crescent, "but one very special one was a family who painted a striking tapa cloth for us, it was just beautiful."

Another creative family came up with a very unique idea to say thank you to the team at Kidsfirst Belfast – personalised biscuits decorated to look like each teacher. Very clever – and delicious!

Across our network we receive so many wonderful comments from parents about how much they love and appreciate their local Kidsfirst kindergarten and how it is an important connection point in their community - it's nice to know parents get as much out of kindergarten as they give.
Information including that about fees, services and promotional activities were correct at the date of publication of news stories but may since have changed. Please check with us to ensure information is current.