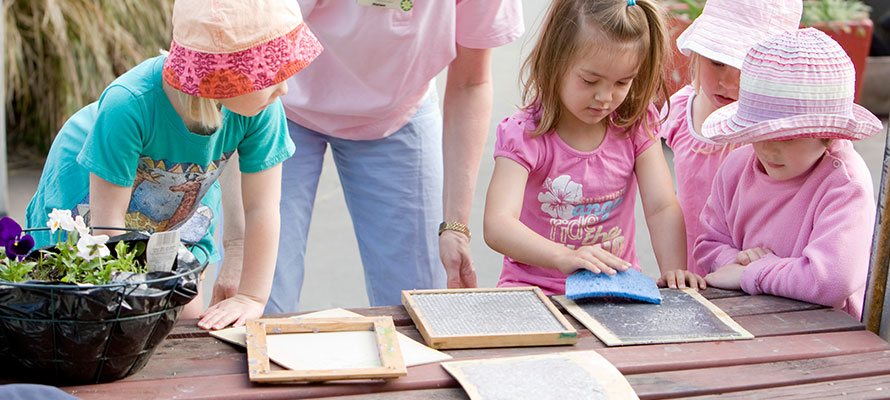 | | | |
| --- | --- | --- |
| | | Many of our kindergartens find the time to make paper. It's something that's creative and fun for the children to do, and it's an excellent example of recycling in action. |
SOME OF OUR STORIES

The working process only takes about half an hour, so it doesn't require too much attention. Because it starts with scrap paper (that often comes from home) and ends up as something new, it's a great lesson in transformation.

Seeing the paper turn to mash when the water is added, then dry back into paper again, often raises questions, providing valuable learning opportunities.

Changing physical states, recycling and conservation are all topics that often arise out of an activity that is also a lot of fun - and one that yields a fantastic result that the children feel very proud of.

It is so hands-on and tactile that our teachers say it's a firm favourite.

The bonus is that at the end of the process, there's some fabulous paper that can be used in all sorts of other creatve projects around the kindergarten, or taken home, completing the (re)cycle.

But that's not the only way paper is being used - and reused.

ABOVE: Children at Kidsfirst Opawa St Martins squeezing the water out of the shredded paper, ready for drying.

A great recycling initiative for kindergartens is happening at Kidsfirst Opawa St Martins. According to teacher Zdenke Reading, the process involves shredding recycled paper (unnamed drawings, paintings and old printed sheets), soaking it with water, and after several days of soaking, the pulp is placed inside the brick maker.

The bricks are put in a dry place and after several weeks when they have dried, they are sold at the "produce" table as kindling.

Zdenke says, "They make an excellent fire fodder and they are selling like hot cakes – we are struggling to make enough!"

The children are now able to make the bricks independently. The community helps by bringing more shredded paper from home. And the children have fun and learn lots in the process.

Learning Outcomes

Creativity has always been one of the things we really treasure at kindergarten. Every day there are just so many opportunities for children to express themselves in lots of different ways.

Activities like paper-making involve children working together, using new skills and thinking about bigger issues such as recycling and the world around them.
KIDSFIRST KINDERGARTENS ARE A NOT FOR PROFIT ASSOCIATION THAT HAS DEVELOPED AND MAINTAINED KINDERGARTENS IN CHRISTCHURCH, CANTERBURY AND ON THE WEST COAST FOR OVER 100 YEARS - AS THE PLACE LOCAL KIDS COME TO LEARN, PLAY AND HAVE FUN.