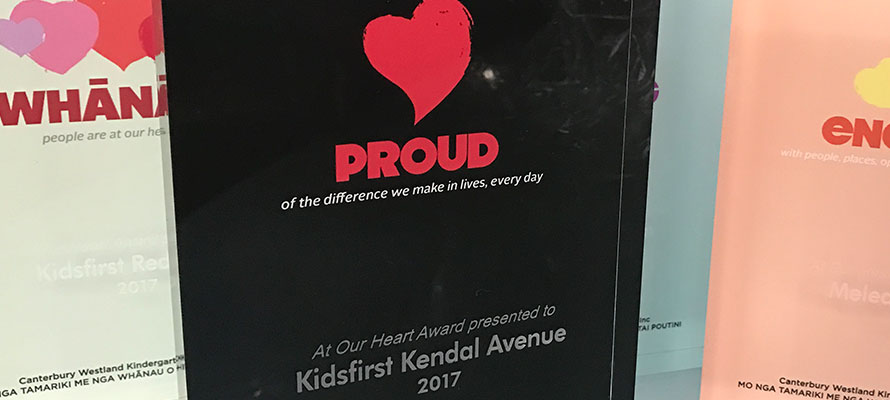 | | | |
| --- | --- | --- |
| | Kidsfirst Kindergartens At Our Heart Awards recognise the kindergartens, early learning centres and individuals who epitomise our core values... | |
SOME OF OUR TOP STORIES

Congratulations to Kidsfirst Kindergartens Kendal Ave, the At Our Heart Proud Award winner, recognised in the 2017 At Our Heart Awards, presented at the AGM in May.

Our values are very important to us as an association and we're so proud to be able to celebrate them in this way.

Being Proud is about knowing you've done your best and having confidence in the things around you. Our teachers are proud to be teachers, they're proud of their kindergartens, proud to say they work for Kidsfirst and proudly believe in what we stand for. And, in turn, we're so very proud of them.

Kidsfirst Kendal Ave has been transformed into an inspiring, vibrant, and culturally inclusive learning environment for young children.

Following strengthening repair work and the return to their newly refurbished kindergarten building, the focus shifted to inspired ideas for uplifting their outdoor space.

Striking new murals of native plants and birdlife running the length of their playground fence created an amazing extension to the garden and enriched the curriculum with imagination, inquiry and conversations about local birdlife. The planning also took teachers on an exciting journey with new connections and understandings about their people and place.

Manaakitanga (respect), whanaungatanga (relationships) and ako (teaching and learning at the same time) are richly evident at this kindergarten. Families love to stay and spend time interacting in this special environment that is inclusive of many cultures.

Congratulations Kidsfirst Kendal Ave!

Although we celebrate these values each year with awards and certificates, we know that tamariki, families and communities see the behaviours and commitment associated with our values every day, in so many different ways in all of our wonderful kindergartens across the network. So congratulations and keep doing what you're doing so well.
Information including that about fees, services and promotional activities were correct at the date of publication of news stories but may since have changed. Please check with us to ensure information is current.