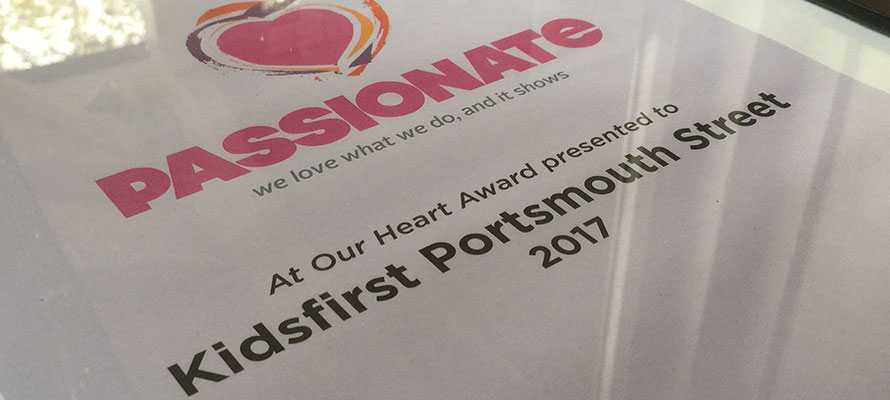 | | | |
| --- | --- | --- |
| | Kidsfirst Kindergartens At Our Heart Awards recognise the kindergartens, early learning centres and individuals who epitomise our core values... | |
SOME OF OUR TOP STORIES

Congratulations to Kidsfirst Kindergartens Portsmouth Street our Passionate Certificate winner, recognised in the 2017 At Our Heart Awards, presented at the AGM in May.

Our values are very important to us as an association and we're so proud to be able to celebrate them in this way. Being Passionate about what you do shows in the way you go about things. It's something that's evident in Kidsfirst Kindergartens in all our communities. We care about doing what we do well.

Kidsfirst Portsmouth Street have focused on 'growing others' and supporting the wider association. Their thinking is, "a new challenge for one - creates opportunities for others!"

During a year of change and challenge all teachers were professional, and remained enthusiastic and positive about teaching and learning. When their Head Teacher moved to help establish our new Tongan service Kidsfirst Nui the team stepped up and took it in their stride.

They maintained a calm haven for children and whānau and provided a supportive and inclusive environment for new people to join their team and contribute as valued members. This is a strength recognized and shared by other relievers and professional colleagues who visit the kindergarten.

Each and every day these teachers display enthusiasm and commitment. They gave a passionate presentation at the Pasifika fono celebration where they proudly shared their journey on the importance of language, culture and identity.

Congratulations Kidsfirst Portsmouth Street!

Although we celebrate these values each year with awards and certificates, we know that tamariki, families and communities see the behaviours and commitment associated with our values every day, in so many different ways in all of our wonderful kindergartens across the network. So congratulations and keep doing what you're doing so well.


KIDSFIRST KINDERGARTENS ARE A NOT FOR PROFIT ASSOCIATION THAT HAS DEVELOPED AND MAINTAINED KINDERGARTENS IN CHRISTCHURCH, CANTERBURY AND ON THE WEST COAST FOR OVER 100 YEARS - AS THE PLACE LOCAL KIDS COME TO LEARN, PLAY AND HAVE FUN.