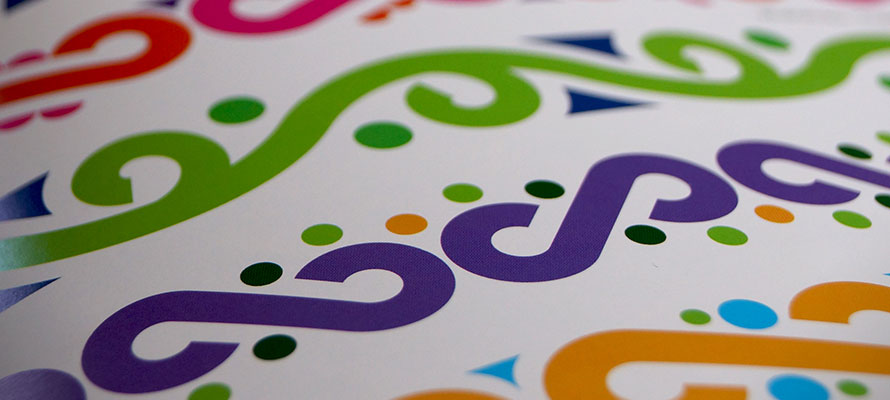 | | | |
| --- | --- | --- |
| | | Kidsfirst Kindergartens developed a series of patterns to illustrate the six principles at the core of Kidsfirst Whānau which are now widely seen around our kindergartens. |
SOME OF OUR STORIES.

These patterns use the bold shapes and bright colours of kindergarten but go further than that - linking into our values and sense of place.

There are the colours of our country, from the blue of the ocean to the green of the forests and the yellow of the wheat fields. The shape of the koru weaves in and out representing new growth, there's the circle of life and you can see a symbolic whale tail, with the mother and calf, side by side in the pattern that describes caring.

Each of the principles applies to our thinking, as an organisation, throughout our kindergartens and as individuals.

Together they help show our willingness to move forward, taking and
combining elements from all our cultures into a common vision.

Denise Sheat, Kidsfirst's Cultural Advisor says that, "they have a likeness to kowhaiwhai, showing a bicultural awareness but not using traditional components. Like kowhaiwhai they have meaning which is made easier to describe and embrace through the colour, the flow, the ease of recognition, and their attractive use."

QUICK READ

Our kowhaiwhai inspired patterns each relate to one of our whanau values.

They are not traditional in style, but combine our bi-culturalism with a clearly kindergarten perspective.
KIDSFIRST KINDERGARTENS ARE A NOT FOR PROFIT ASSOCIATION THAT HAS DEVELOPED AND MAINTAINED KINDERGARTENS IN CHRISTCHURCH, CANTERBURY AND ON THE WEST COAST FOR OVER 100 YEARS - AS THE PLACE LOCAL KIDS COME TO LEARN, PLAY AND HAVE FUN.