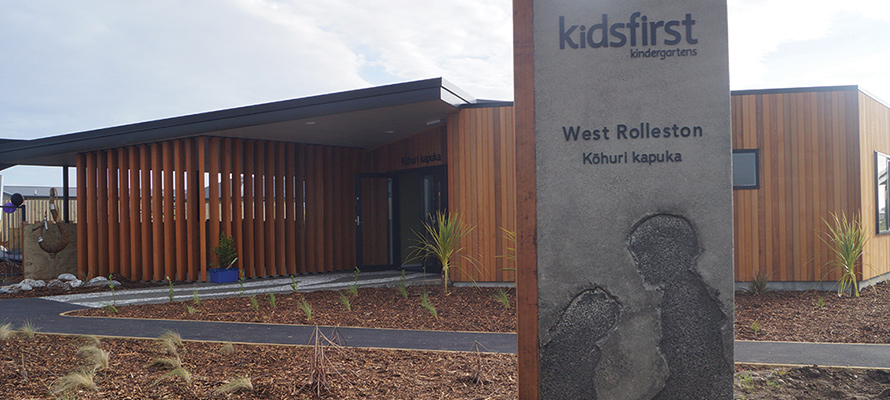 | | | |
| --- | --- | --- |
| | A new kindergarten is always exciting. It's a time filled with opportunities to incorporate some of the features we've always wanted... | |
SOME OF OUR TOP STORIES

Kidsfirst Kindergartens West Rolleston is the most recent addition to our network whānau. It has been a special project in our hearts, designed and constructed throughout 2017.

We're so proud of what has been achieved with this kindergarten. Deep within every element of the building and landscape, we've woven through Manawhenua values, Kidsfirst values and the principles of Te Whāriki, the national early childhood curriculum.

It has been inspiring to see it come to life from the ground up with the support of many skilled people to whom we are tremendously grateful.

Now that the teachers and children have made the space their own, we'd love to share some of the kindergarten's more interesting features with you, and recognise some of the people who made it happen.

It's all in the name
We're priviledged to join other schools in the Rolleston area that have been honoured with Māori names for their buildings. Ours – Kōhuri Kapuka – was gifted to us by Taumutu Rūnanga. Kōhuri means sapling, referencing our youngest learners, and Kapuka refers to broadleaf or griselinia plants that commonly grow around Rolleston.

A product of its environment
The journey of this kindergarten began by first developing an understanding of place and community. Taumutu and our treasured former Kidsfirst Kuia Denise Sheat were generous in sharing their cultural history and heritage of this place. Like the rocky base of the Rakaia riverbed, this knowledge has become the foundation for the site's design, and helps us form the basis from which we begin our own story.

Reflecting nature
All of the colours and materials used both indoors and outside around Kōhuri Kapuka were chosen to reflect the natural environment. There is cedar trim throughout, our signage is all carved into natural rock, and the river stone wall stands strong bordering the outdoor play area within the natural landscape of the Rolleston whenua.

We've opened up the natural outdoor area to bask in sun with patches of sheltered shade, and to maximise our fresh water resources.

Green is one of our favourite colours
Chosen from the Taumutu planting guide, you'll find a plethora of native shrubs and bushes in the outdoor area which have been part of the natural landscape in Rolleston for centuries. One particularly special specimen is the Kapuka gifted and planted by Denise Sheat. It's a tangible symbol of the strength, growth and togetherness of this community. During the blessing ceremony held on Saturday 23 September 2017, Denise also restored some soil that was taken for safe keeping when we originally blessed the site before building began in April 2016 – a lovely way to come full circle and welcome everybody into this new space.

Nau mai haere mai
A lot of thought has gone into the way we welcome whānau into Kidsfirst West Rolleston. Each day, children begin their learning journey by following the paved Rakaia river braids into the kindergarten's main entranceway. Once inside, there is plenty of space for manuhiri (guests) to gather. The awa (river) continues to bubble and flow as patterning in the carpet tiles through the foyer, past the whānau room and into the play space.

A space to call home
We wanted to bring manaakitanga (hospitality, respect, generosity and care) to life in this kindergarten and the whānau room space manifests this value well. It's a community space where families can come together and really make it their own, helping parents connect with their child's learning and aid the transition between home and kindy.

Our window to the world
Our kindergarten abounds with windows to let in lght, sun and inspiration. We have a window seat that overlooks the neighbourhood so we can wave out to passing families and children on their way to school. It's a connection point to our community.

Art in the garden
The Hei Matau (fish hook) sculpture created by Mark Larsen, sits in the outdoor area alongside our river. It represents an important part of the cultural history of the local area – the mahinga kai (food gathering) places of Tauwharekākaho (Rolleston).

Glacier Country Connection
The rocks and boulders that border the sandpit area connect this site to the last kindergarten we established before West Rolleston – Kidsfirst Glacier Country. Three truckloads of boulders arrived on the corner of Bethany Road and Granite Drive from Franz Josef. These provide a craggy backdrop for the building of tiny castles and excavation using pint-sized diggers and tractors, and they frame the dry riverbed on the corner of Bethany and Granite, referencing the Waimakariri which once flowed through the Taumutu rohe (area).

Part of the neighbourhood...and the network
Thank you to all of the people, families and local businesses who helped us to feel at home and have welcomed us with open arms into the community. One great surprise came from the team at Countdown. Presented by Manager, Joe Keetley at the kindergarten blessing ceremony, they gifted us a generous Welcome to our Community pack which included books, gift cards and more.

Our nearby Kidsfirst services are Kidsfirst Templeton, Kidsfirst Lincoln and Kidsfirst Burnham. It is a real highlight to be able to connect with them and go on adventures together around the southwestern outskirts of Christchurch.

Amazing outdoor spaces
Compass Playgrounds have created a unique play space where children can challenge themselves with the support of our trained teachers. Outside, the incredible playground created by Tim Anderson and the team from Compass Playgrounds provides flexible, adaptable, age-appropriate spaces which are accessible and inclusive to all tamariki. The grass, bark and paved play areas provide challenges and risk-taking opportunities, have quiet reflective spaces, and provide a variety of experiences.

Our Whare will feature kowhaiwhai carved by Whakaraupo Carving School Kaiako Caine Tauwhare. Caine will work with Taumutu, our staff and tamariki to develop the designs especially for West Rolleston.

The Fale provides shelter from the sun and is reflective of the diverse Pacific cultures of Aotearoa New Zealand.

Custom by design
Opus Architects have done a great job turning all of our early ideas and visions into the kindergarten we see today, with all of the unique elements combining beautifully. And Hann Construction put in the hard yards to lift the design off the page and build it into the neighbourhood.

Working hand in hand
Kidsfirst West Rolleston is located nearby West Rolleston Primary School Te Kura o Te Uru Kōwhai. We're proud to work closely with the teachers there to help Kidsfirst children transition and grow into their school years. As early childhood educators, our role is to prepare our tamariki for everything they encounter in life beyond Kidsfirst, and moving on to primary school is a big part of that.



None of this would have been possible without the strong cultural guidance we've received from local iwi Taumutu. We're honoured to carry forward such cultural significance in this kindergarten and really appreciate their collaborative way of working, helping us to understand more about our new neighbourhood, Tauwharekākaho (Rolleston).

As you can see, special care has been taken to reflect the local area and its bicultural connection in every aspect of this kindergarten's design and construction. Everyone mentioned here has been crucial to achieving the high quality early learning environment that we have created. We've used all of our collective knowledge and experience to build this place and seeing it brimming with smiling faces everyday really brings it to life.


Here are some photos of Kidsfirst West Rolleston:

Kidsfirst Kindergartens
Head Office, 43 Birmingham Drive, Middleton, Christchurch 8024
+64 3 338 1303 email: questions@kidsfirst.org.nz
Postal Details: Kidsfirst Kindergartens, PO Box 8089, Christchurch 8440
KIDSFIRST KINDERGARTENS ARE A NOT FOR PROFIT ASSOCIATION WITH OVER 70 KINDERGARTENS AND EARLY LEARNING CENTRES COVERING CHRISTCHURCH, CANTERBURY, CENTRAL OTAGO, BANKS PENINSULA AND THE WEST COAST - AND HAS DONE SO FOR OVER 100 YEARS
- AS THE PLACE LOCAL KIDS COME TO LEARN, PLAY AND HAVE FUN.