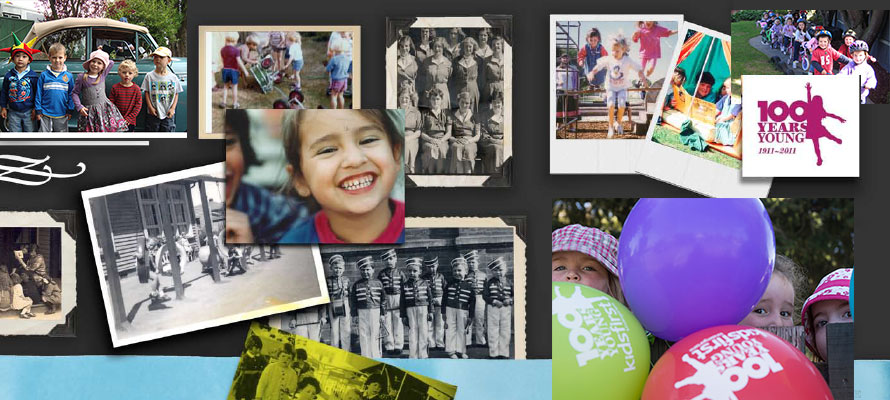 Over the years our Association has evolved, adapted and grown to meet the needs of the children and families in our community.

Here are a few of the milestones along the way.
SOME OF OUR TOP STORIES

MORE ABOUT OUR

HISTORY...

1878


The Kindergarten method was introduced into Canterbury Schools.

1889

New Zealand's first kindergarten opens in Dunedin.

1899

Kindergarten came to Canterbury with the opening of the kindergarten we know today as Kidsfirst Sunbeam.

1911

The Christchurch Creche and Kindergarten Association was formed as an incorporated society,following a meeting called by the Mayoress, Mrs T.E. Taylor.

"The following improvements have been effected during the year : - The School has been connected with the drainage system; lavatory basin fitted up for the children; linoleum for small room purchased; portable boiler purchased; large cupboard fixed and some useful presents have been received from appreciative friends."


Sunbeam Kindergarten Committee, Annual Report and Balance Sheet 1913-14

1913

Government instituted a Kindergarten Teaching Certificate as a result of pressure from Kindergarten Associations throughout New Zealand.

1923

There were five kindergartens operating in Christchurch; Sunbeam, Sydenham, Phillipstown, Selwyn and Richmond.


The Association enjoyed an annual income of £1,687.

1927

The Christchurch Crèche and Kindergarten Association altered its name to Christchurch Free Kindergarten Association Incorporated.

"Although Sunbeam is the oldest Christchurch Kindergarten, it is a bright and sunny spot, where one may find busy little housekeepers, gardeners, carpenters, artists, or musicians."

Hazel Gorrie, Director, Christchurch Kindergarten Chronicle, 1938.

1948

The Department of Education takes over payment of teachers' salaries.

"In 1946 we enter a new era of Peace on which our thoughts have been centered so long…May the time soon come when every young mother who wishes it, can send her three or four year old to Kindergarten."

Rene Wilkie, Prinicpal,
Annual Report 1945.

1959

The Hokitika and Rangiora Associations affiliated with the Christchurch Association bringing the total number of kindergartens to 32.

1960

Greymouth Association affiliated with the Christchurch Association.

1971

60th anniversary of the Association was celebrated with the official opening of the Redwood Kindergarten

"At the end of the year when fifty kindergarten students graduated, Christchurch saw its first male kindergarten teacher amongst these." STAFF RELATIONS AND APPOINTMENTS COMMITTEE, Chairwoman Mrs. S. Barton, Annual Report 1977.

"MacFarlane Park Kindergarten, which was destroyed by fire on 29 December 1979, was replaced on the original site in Acheson Avenue and officially opened on 22 November 1980. We are very grateful to the headmaster, Mr Familton, Quinns Road School, and their committee for the interest shown to the teachers and children of the kindergarten for allowing them the use of an empty classroom." Annual Report, 1980.

1983

The Christchurch Free Kindergarten Association Incorporated altered its name to Canterbury Westland Free Kindergarten Association (Incorporated).

1994

The Burnham Association affiliated with the Association.

It is important that all those involved in kindergarten - teachers, parents, committees and Association are vigilant in remaining aware of policial and societal influences on policay in Early Childhood. What is needed is a continuing appraisal of the importance of parenting, and sustained efforts for the appropriate care and education of children in a changing society.


Carol Eggleston - K4 Senior Teacher
1994 Annual Report

1998

The Canterbury Westland Free Kindergarten Association adopted the trade name 'Kidsfirst Kindergartens'.

2007

The government introduces its 20 Hours Free ECE programme. Kidsfirst shifts from donations to fees.

Some Kidsfirst kindergartens begin to offer longer sessions to better meet community demand.

2009

Approximately 4,500 children attend 63 kindergartens, with 3,000 children on waiting lists to enter kindergartens. A total of 320 staff are employed and the Association's annual income approaches the $20 million mark.

2010

The first of a series of major earthquakes rocked the Canterbury area, closing some kindergartens in the short term and causing distress around the region.

2011

Our Association celebrates 100 years of kindergarten in our regions

The Association introduces up to 30 hours per week FREE for children aged 6 months to 5 years.

2015

Opening of two new centres in Diamond Harbour and Franz Josef.

2016

Association purchased Niu - a Tongan pre-school and merged with Central Otago Kindergarten Association.
Information including that about fees, services and promotional activities were correct at the date of publication of news stories but may since have changed. Please check with us to ensure information is current.