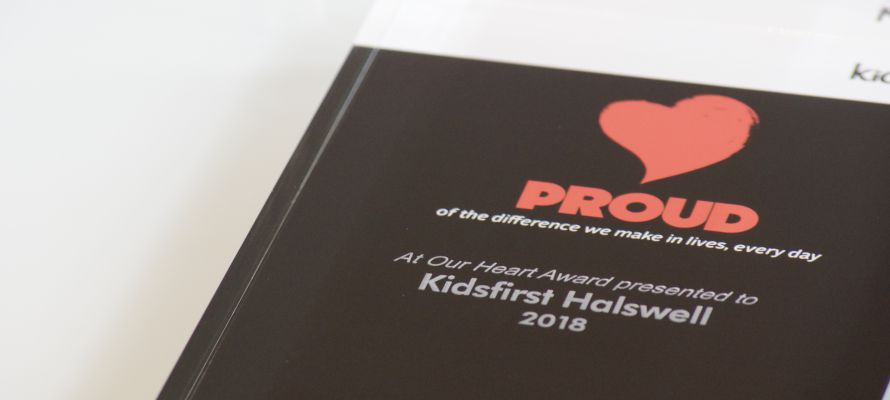 At Our Heart Awards.
Proud, Engaged, Whānau, Passionate, and Inspiring – these are the Kidsfirst At Our Heart values that we live out every day, at kindergarten. Every year we recognise the teaching teams who have particularly exemplified these values with certificates for runners-up, and trophies for the winners.

FIND OUT WHY WE'RE JUST BETTER BECAUSE...

Congratulations to our Proud winner, Kidsfirst Halswell, recognised in the 2018 At Our Heart Awards, presented at the AGM in May.

"It's certainly one of my favourite times of the year, when we can recognise the kindergartens and teaching teams who've really shone and exceeded all expectations," says Kidsfirst CE, Sherryll Wilson.

We talk a lot about being proud – it's knowing that we've done our best and having confidence in the people and environments we work in. Our Kidsfirst kindergarten teaching teams, come to work every day, proud to be making a difference in the lives of young children and their families.

Kidsfirst Halswell's demographic has vastly changed and grown in recent years, specifically with children of Chinese descent.

Teachers went above and beyond for their kindergarten whānau, enrolling in Mandarin language night classes (in their own time) to ensure they could better foster and strengthen relationships with their local community.

As well as sharing and utilizing the language at kindergarten, they've sought support from families to learn more about all aspects of the culture, including bringing cultural artefacts to kindergarten to learn about.

Going outside their comfort zones in this way, has helped everyone at this kindergarten to feel a sense of belonging and engagement. Whānau were sharing more about their culture, supporting the teachers with speaking their language and comfortably spending time within the kindergarten.

Our values are very important to us as an association and we're so proud to be able to celebrate them in this way.

Congratulations Proud winner Kidsfirst Halswell!

Although we celebrate these values each year with awards and certificates, we know that tamariki, families and communities see the behaviours and commitment associated with our values every day, in so many different ways in all of our wonderful kindergartens across the network. So congratulations and keep doing what you're doing so well.

.

Kidsfirst Kindergartens
Head Office, 43 Birmingham Drive, Middleton, Christchurch 8024
+64 3 338 1303 email: questions@kidsfirst.org.nz
Postal Details: Kidsfirst Kindergartens, PO Box 8089, Christchurch 8440
KIDSFIRST KINDERGARTENS ARE A NOT FOR PROFIT ASSOCIATION WITH OVER 70 KINDERGARTENS AND EARLY LEARNING CENTRES COVERING CHRISTCHURCH, CANTERBURY, CENTRAL OTAGO, BANKS PENINSULA AND THE WEST COAST - AND HAS DONE SO FOR OVER 100 YEARS
- AS THE PLACE LOCAL KIDS COME TO LEARN, PLAY AND HAVE FUN.