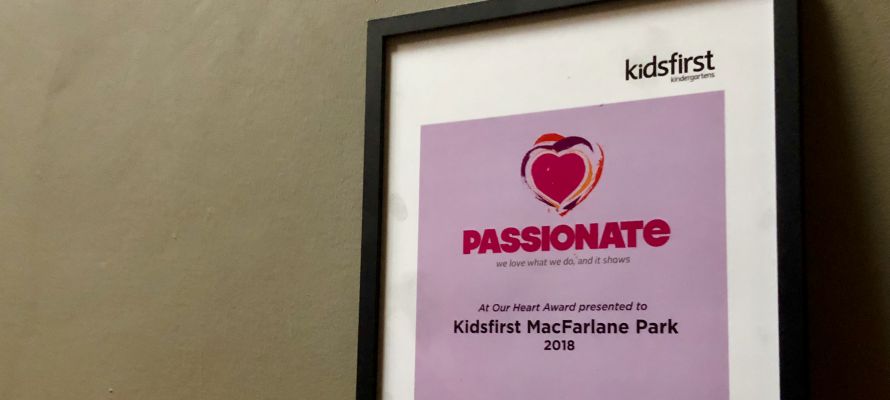 At Our Heart Awards.
Proud, Engaged, Whānau, Passionate, and Inspiring – these are the Kidsfirst At Our Heart values that we live out every day, at kindergarten. Every year we recognise the teaching teams who have particularly exemplified these values with certificates for runners-up, and trophies for the winners.

FIND OUT WHY WE'RE JUST BETTER BECAUSE...

Congratulations to our Passionate commendation winner, Kidsfirst MacFarlane Park, recognised in the 2018 At Our Heart Awards, presented at the AGM in May.

"It's certainly one of my favourite times of the year, when we can recognise the kindergartens and teaching teams who've really shone and exceeded all expectations," says Kidsfirst CE, Sherryll Wilson.

Kidsfirst people are passionate people. Whatever we do, our passion shows in the way we go about things. Our energy and enthusiasm is evident in all of our communities. We care about doing what we do well.

Kidsfirst MacFarlane Park kindergarten displayed the Passionate value to a high standard.

They've actively collaborated with Mitre 10 and Trees for Canterbury on gardening projects, and grew the tallest sunflower in the Daltons Sunflowers in Kindergartens competition.

Teachers and children get out into the community often, walking to the community garden in their cool Kidsfirst high-vis vests! This project was publicised in the community paper, helping more local families see the great work we do at Kidsfirst.

In recent months the kindergarten also had parents drive a highly successful parent network to help with fundraising and social projects.

Congratulations Kidsfirst MacFarlane Park!

Although we celebrate these values each year with awards and certificates, we know that tamariki, families and communities see the behaviours and commitment associated with our values every day, in so many different ways in all of our wonderful kindergartens across the network. So congratulations and keep doing what you're doing so well.

.

Kidsfirst Kindergartens
Head Office, 43 Birmingham Drive, Middleton, Christchurch 8024
+64 3 338 1303 email: questions@kidsfirst.org.nz
Postal Details: Kidsfirst Kindergartens, PO Box 8089, Christchurch 8440
KIDSFIRST KINDERGARTENS ARE A NOT FOR PROFIT ASSOCIATION WITH OVER 70 KINDERGARTENS AND EARLY LEARNING CENTRES COVERING CHRISTCHURCH, CANTERBURY, CENTRAL OTAGO, BANKS PENINSULA AND THE WEST COAST - AND HAS DONE SO FOR OVER 100 YEARS
- AS THE PLACE LOCAL KIDS COME TO LEARN, PLAY AND HAVE FUN.