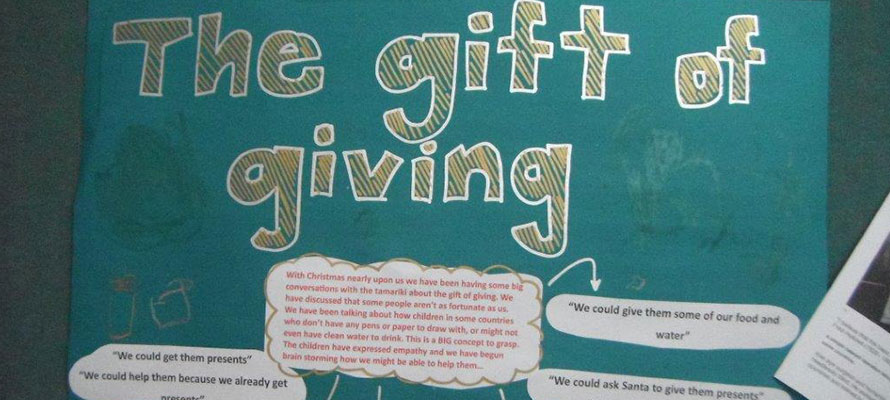 | | | |
| --- | --- | --- |
| | | Kidsfirst Opawa St Martins have recently done a fantastic job of encouraging children's generosity and pairing it magnificently with learning about sight and eye operations. |
OUR TOP STORIES:

When the kindy kids were talking about what gifts they could give to others for Christmas, they collectively decided that the best idea would be to give the gift of sight to someone. The children learned that this could be done by funding an eye operation, which happens through a charity called the Fred Hollows Foundation.

"To make the experience meaningful for tamariki, glasses were made with baking paper lenses, to literally see what it would be like to have cataracts," says Kidsfirst Opawa St Martins Head Teacher Duncan Fisher.

"This also spurred on great team work as the girls and boys led each other around the kindergarten, pointing out obstacles and really having to rely on one another."

To raise the money that was needed to perform a sight-saving eye operation on someone, the kindergarten held a fundraising afternoon tea.

Banana and chocolate, and lemon muffins were made by the children that morning and sold to the community for a donation. At the end of the day Kidsfirst Opawa St Martins had made $75 and sold enough muffins to give the gift of sight to 3 people!

Farewell time on Friday afternoon was exciting as the children put a sticker for every dollar on the chart.

"The response from the community has been wonderful and very, very supportive. The tamariki are very proud of themselves and their efforts. Here, children are learning to feel empathy for others outside of the immediate kindergarten or home environment. Already, we've heard them talking about what else they can do to help someone," says Duncan.

QUICK READ

Cast your eyes over this great story - Kidsfirst Opawa St Martins raising money for the Fred Hollows Foundation.

What started off as a discussion about gifts for Christmas quickly turned into a fundraising activity where children looked out of the kindergarten gate, and across the world to see others in need.
KIDSFIRST KINDERGARTENS ARE A NOT FOR PROFIT ASSOCIATION THAT HAS DEVELOPED AND MAINTAINED KINDERGARTENS IN CHRISTCHURCH, CANTERBURY AND ON THE WEST COAST FOR OVER 100 YEARS - AS THE PLACE LOCAL KIDS COME TO LEARN, PLAY AND HAVE FUN.